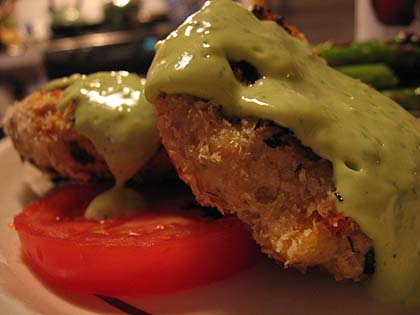 This is another one of those cleaning the cabinets type of projects. This time it was a big can of tuna and a small can of black olives. Oh and I also got to use an avocado that really needed to be used. Not bad — a tasty meal and room in the cabinet for more cans of things I won't use for six months. Hooray!
Since the sauce is nice, cool and creamy this also makes a great light meal when it's hot out.
For sauce
Based on a recipe from Gourmet magazine
1 medium avocado, pitted and peeled
1 tbsp low-fat mayonnaise
1 tbsp fresh lime juice
1/4 tsp salt
1/4 tsp sugar
1 jalapeno chile (including seeds), stemmed and quartered lengthwise
1/4 cup fat-free milk
For tuna cakes
Based on eating frugally in grad school and jwa's love of olives
1 12 oz can tuna in water, drained and flaked into a bowl
1 egg
1/4 cup minced fresh chives
1 tsp fresh lemon juice
1 tsp Dijon mustard
1/4 tsp black pepper
1/4 – 1/2 cup breadcrumbs (+ 1/3 cup more for coating)
1/4 cup black olives, chopped
2 tbsp olive oil
2 garlic cloves, minced
1/4 cup red bell pepper, diced
1/4 teaspoon salt
Optional garnish: 1 tomato, sliced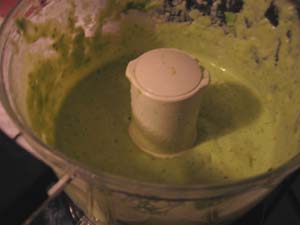 Make sauce:
Pulse avocado with mayonnaise, lime juice, salt, sugar, and one fourth of chile in a food processor until chile is finely chopped. Add milk and purée until smooth. Add more chile if desired, processing until smooth. Transfer sauce to a bowl and chill until ready to eat.
Make tuna cakes:
Stir together tuna, egg, chives, lemon juice, mustard, salt, pepper, olives, red bell pepper, garlic and 1/4 cup of the bread crumbs in a large bowl until blended well. If needed, add the other 1/4 cup of bread crumbs. You want enough bread crumbs to be able to make cakes that will hold together nicely.
Form into four patties and dredge in the remaining 1/3 cup bread crumbs. I used panko (Japanese bread crumbs) for the coating but normal breadcrumbs will work fine too. I just think the panko crisps up better and I had some on hand, so that's what I used.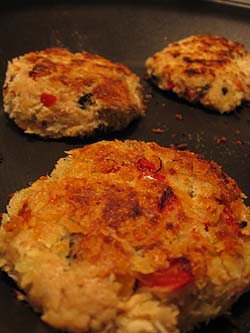 Heat the olive oil in a skillet and cook tuna cakes until heated through and nicely browned. About 5-6 minutes per side over medium heat. You can also bake the tuna cakes in the oven on an oiled baking sheet at 400 degrees for about 15 minutes. Just flip them over about halfway through cooking time.
To serve, put a couple of tomato slices on a plate, two tuna cakes and then top with the chilled avocado sauce.