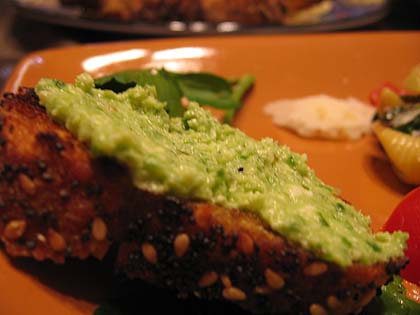 I was in New Seasons the other day buying some halibut and as I was walking through the produce sections I saw the cutest thing — garlic tops.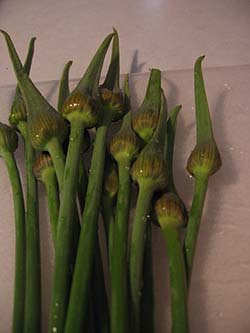 "Oh!" I thought to myself, "need to buy! Cuuute!"
Then I got home and realized I had no idea what to do with them. I did a little online searching and found this page — Mary Jane's Farm about garlic scapes, which I think are slightly younger versions of my tops but I figured it was close enough.
I made the pesto, using half parm and half feta. I also added some pine nuts. Wow! The garlic! It burns! (But in a good way). I mixed about a tablespoon into a big bowl of hot pasta with some olive oil to start, as it did seem a little strong. But — by the middle of the meal, jwa and I were spreading the extra pesto on bread and mixing more of it into the pasta. So, so good. Just make sure you really like garlic.
Garlic Tops Pesto
1/2 cup grated Parmesan cheese
1/2 cup crumbled feta cheese
3 tbsp lemon juice
1 tbsp toasted pine nuts
1/4 lb scapes (garlic tops)
1/2 cup . . . → Read More: They Are so Cute — Now What Do I Do with Them?