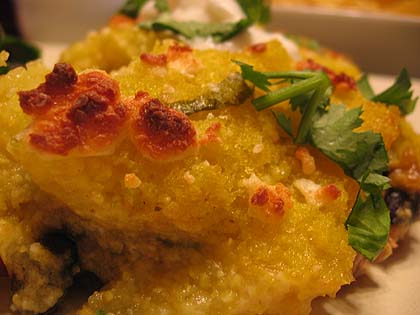 Ah, the roll of polenta. So full of fun and possibilities. Slice it up and make a lasagna. Have it on the side of some pasta. Leave it in the cabinet and make polenta yourself. All of these options will work just fine. But what about using it in Mexican food? Oh hell, why not?
Like a lot of the recipes I've made lately, this one is based on something I saw recently from Bon Apetit (the Too Busy to Cook section). I'm not really too busy to cook of course, just easily intrigued by recipes that call for packaged polenta tubes in an unexpected genre. I saw this one and went, "huh…". Polenta as a stand in for a tamale, you say? Moosh it all up and make it a tasty Mexican casserole topping, you say? Okay, I say. I'll give it a try.
The result was actually pretty good. I would definitely make it again. I mean, sure, you could make your own corn meal topping (for a realmale), but if you had a packaged polenta tube on hand, this would be as good a thing to do with it as anything else. And sure, one could argue that the use of packaged polenta is a step in the direction of Sandra Lee, but I would counter that, if used responsibly, nu-uh, it's really not. So there.
Chicken Fauxmale Pie
1 tbsp canola or vegetable oil
3/4-ish lb skinless, boneless chicken breasts, cut into 1-inch pieces, salted and peppered lightly to season
1 tbsp chile powder
1 tbsp cumin
1 clove garlic, minced
1 white onion, diced
1 red bell pepper, diced
1 jalapeno, deseeded and diced finely (use as much as you want, I think I used about 3/4 of a jalapeno)
1/4 cup salsa of your choice
1/4 cup chicken broth
1 can black beans, drained and rinsed
2 tomatoes, diced
2 big handfuls of fresh baby spinach leaves
1/2 cup chopped fresh cilantro
1 tube prepared polenta
1 1/2 cups sharp cheddar cheese, diced or shredded
1/4 cup cojita cheese, crumbled
Preheat oven to 350 degrees. Sauté the onion, bell pepper, jalapeno and garlic in the oil over medium-high heat for a few minutes or until soft and starting to color. Add the cumin, chili powder and the chicken. Continue cooking until the chicken has browned and is mostly done. Add the broth and spinach and stir until the spinach is wilted. Taste and salt as needed.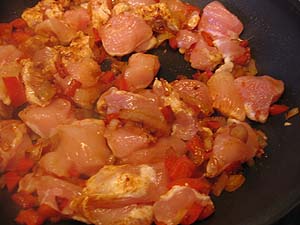 Next, add the black beans, about 1/4 cup of the cilantro and the diced tomato. It should be a nice, chunky, casserole-filling consistency. Spread it into a 9-inch square baking pan (the size you would use for brownies).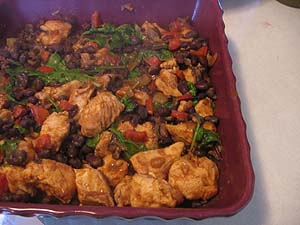 Unwrap the polenta and add to a big bowl. Slice into a few big pieces and then crumble.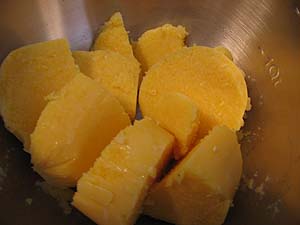 I found that using a potato masher was a very quick way to crumble it all up. Add the 1/4 cup salsa and the cojita cheese. Mix that all up together — this will be the fauxmale topping.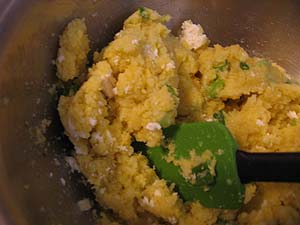 Cover the chicken mixture with the cheddar cheese, then spread the fauxmale mixture on top of that.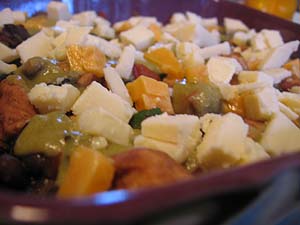 Here, you could spray the top of the casserole with a little olive oil to encourage browning. That's what I did and I was pretty pleased with the results.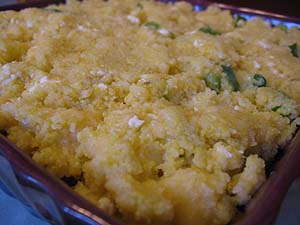 Bake the casserole, uncovered, until heated through, golden on top and chicken-salsa mixture starts to bubble up, about 35 – 40 minutes.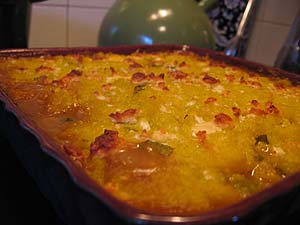 Serve with sour cream for garnish and the rest of the cilantro.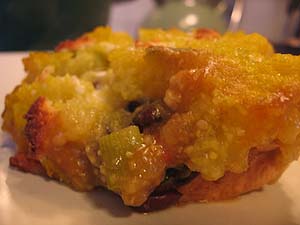 ***
Off to Ashland Sunday for a quick overnight, a play, dinner at the Winchester Inn and a look at the Peerless Hotel for a Wedding08 contender.