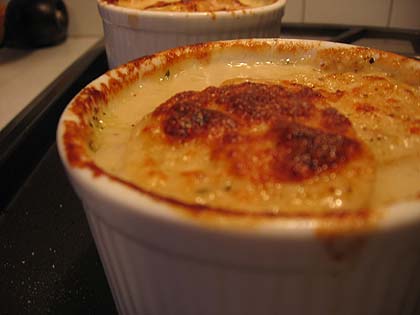 Just when I start to think about changing the blog theme to something more Springy, it gets all cold again. The kind of weather where you want to make a creamy sauce and bake something in it. Something like potatoes. The kind of weather where there's a pork tenderloin involved in the whole thing as well.
I started with an idea — mmmmm…lavender and goat cheese — and ended up with a whole meal.
Lavender-Goat Cheese Potatoes
This made two 1-cup ramekins. In fact I had a little extra sauce left over. I'm sure I will be able to figure something out. My point is though, if you want to double this, add another potato, then double the whole recipe, and it should serve around 6).
3 small yellow potatoes, scrubbed and sliced thinly, peeled or unpeeled, your choice (figure about 1.5 potatoes per person for a generous serving)
1 clove garlic, minced
2 cups fat free, 2% or full fat milk (I used fat-free and it was very creamy)
2 tbsp butter
2 tbsp flour
1 tbsp dried culinary lavender
2 oz goat cheese
dash of nutmeg
salt & pepper
1/4 cup + 2 tsp grated Parmesan cheese
Some non-stick spray or some butter
Garnish: A sprig or two of fresh lavender
Preheat oven to 400 degrees. Add the milk and lavender to a small pot and bring to a simmer (don't boil). Let the lavender steep for a few minutes.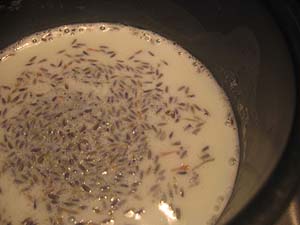 Melt the butter in a larger pan over medium-high heat and add the garlic. Saute for two minutes and then add the flour. Let that cook for a couple of minutes more and then strain the hot milk into the roux. Whisk until smooth. It should bubble and thicken. Reduce the heat and add the goat cheese, whisking until melted.
Then add the nutmeg, 1/4 cup of Parmesan and a little salt and pepper. Taste and adjust any seasonings. Spray individual ramekins with non-stick spray (or coat with a little butter) and ladle a little of the sauce in the bottom.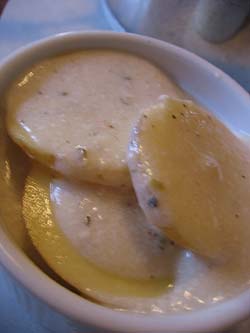 Layer a few potato slices around the bottom and cover with sauce. repeat until you reach the top. Ladle a generous amount of sauce on top and cover each with a teaspoon of Parmesan and some black pepper. Give a quick spray with canola or olive oil or dot with butter.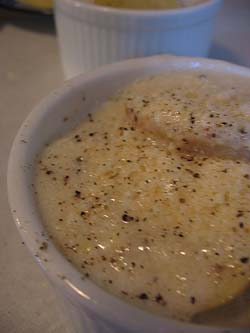 Bake in the oven for 35-40 minutes, until the potatoes are nice and tender and the tops are golden. Garnish with fresh lavender if available (our plants are still sleeeping for the Winter…).
Now, what to serve with the potatoes? I know — how about some Parmesan-sage crusted pork tenderloin? Well, okay then.
Parmesan-Sage Crusted Pork Tenderloin
Will feed about 3 — double it for 6.
1 pork tenderloin
3/4 cup grated Parmesan cheese
1 tbsp good quality dried, rubbed sage
salt
pepper
1 tbsp olive oil
Blend the cheese, sage and a few grinds black pepper in a shallow dish. Before dredging, sprinkle the pork with a little salt on all sides. Then, lay the tenderloin over the cheese and push down. Turn over and repeat. You can also kind of pat the cheese and sage into the pork. When you are doe it should look something like this.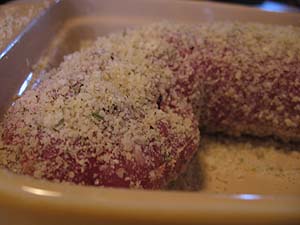 If you don't mind an extra step, you could also coat the pork in Dijon mustard before dredging. I was just too lazy to do that. Heat an oven proof skillet and add the oil. Sear pork on all sides. Then, pop in the oven for 15 minutes or so, until the pork registers about 150-155 degrees. Remove from oven and let sit 5-10 minutes before serving.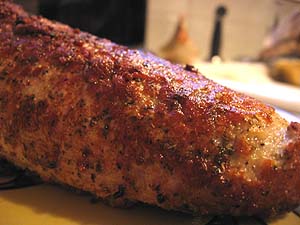 If you wanted a sauce to go with your pork, when you put the pork in the oven, add about a cup of chicken broth to another small pot, along with about a tablespoon of dried lavender, a teaspoon of Dijon mustard, a splash of wine, and a teaspoon of Herbes de Provence. Put it over medium-high heat. This way, it can reduce on the stovetop while the pork cooks in the oven. Bring to a boil and then simmer for about 15-20 minutes, reducing by about half.
If there isn't a lot of Parmesan fall-off in you pork skillet(after you remove it from the oven, of course), strain the reduced sauce into the pork pan and continue to reduce for another minute or so. Taste and add salt/pepper as needed. Finish by melting about a half tablespoon of butter into the sauce.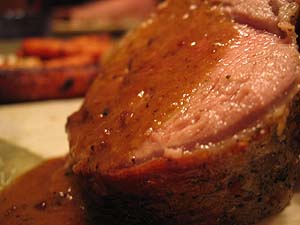 Serve everything with the vegetable of your choice. I chose roasted carrots. Excellent. jwa thought so too. Now go ahead and finish the wine you opened for the sauce with dinner and call it a tasty, not-quite-Spring-yet night.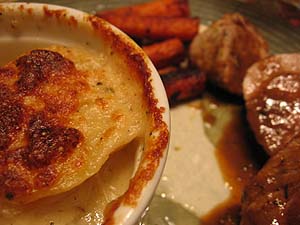 Hooray for crusty cheese!