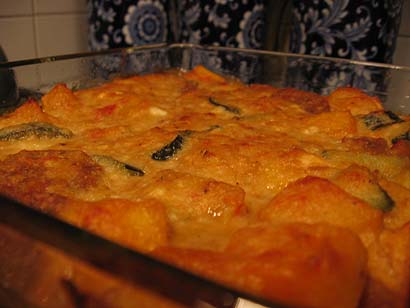 Super Foods count here is three. Not too bad. This turned into a very successful experiment. jwa was a bit skeptical, as he is with all things that involve pumpkin. Although, once I told him I was using butternut squash as a substitute, he relaxed. He has some kind of weird pumpkin phobia that strikes in the Fall and doesn't leave until Spring.
I changed this a bit from the original — I added olive oil, the sausage and the roux. I also used chicken broth in this version (mahahahaha, Vegetarian Times!) rendering it meat-laced and definitely un-vegetarian. You can use vegetable broth if you'd like.
Feta-Pumpkin (Squash) Casserole
Based on a recipe in The Vegetarian Times
1 tbsp olive oil (plus a little extra for the pan, if desired)
1/4 cup dry sherry
1/4 cup vegetable broth or chicken broth
1 small white onion, chopped
3 cloves garlic, minced
1 medium tomato, diced
1 small zucchini, sliced
1 medium butternut squash (or small sugar pumpkin), peeled and cubed
1 tbsp butter
2 tbsp flour
1 whole egg plus 1 egg white, lightly beaten
2 vegetarian sausages (I used apple-sage veggie sausage but hey, you could omit the sausage or use chicken, turkey, pork or lamb sausage)
1/2 cup low-fat buttermilk
1/2 cup nonfat plain yogurt
3/4 cup crumbled feta cheese
1/8 tsp cayenne pepper
1/2 tsp rubbed sage (or 1 tsp fresh sage, shopped)
2 tbsp toasted bread crumbs
3 tbsp Parmesan cheese
salt & pepper
Preheat oven to 375 degrees. Lightly oil a 2-quart baking dish (or use non-stick spray). In a saute pan, heat the tablespoon of olive oil over medium-high heat. Add onion and saute, stirring until onion is soft, about 2 minutes. Add the garlic, zucchini and sausage. Continue to cook until it all gets a little color and starts to look tasty.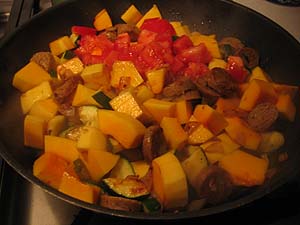 Next, comes the pumpkin or squash and the tomato. Add it all in and stir a bit. Let saute for about 5 -6 more minutes. Then, add the butter and let it melt. Sprinkle in the flour and combine. Cook it for just a minute to get rid of raw flour taste.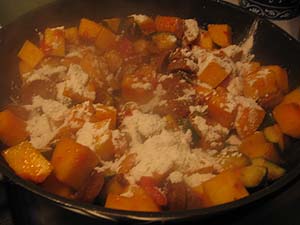 Add the sherry and broth. Stir and let it all thicken up. Set the pan aside and cool off just a bit so you don't scramble the eggs. You can also temper the eggs with just a little bit of the sauce in the pan — I think I did that in addition to letting it cool for about 5 minutes. In a medium bowl, whisk together egg and egg whites, buttermilk and yogurt.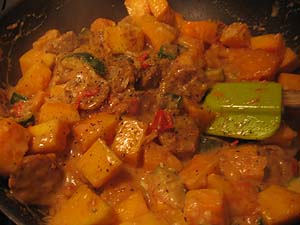 Add feta and spices to the sauteed vegetables and then the yogurt/buttermilk combination. Season with salt and pepper. Mix well. Spoon into a loaf pan or square casserole dish. Sprinkle with the Parmesan and bread crumbs. Bake 25 minutes or until bubbly. Serve hot.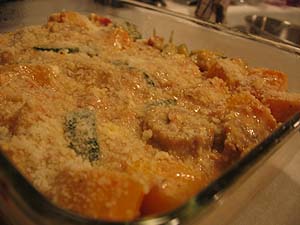 When you spoon it out it may look a little messy. Ehh. That's just the way it goes. It's a casserole — a dairy-based casserole — it's not going to photograph well or look magazine-perfect. It's kinda going to gloop out onto your plate. But, it's great tasting, so who cares if it's not super pretty? Not me.
Super Foods: Yogurt, Pumpkin (Squash), tomato
Next Friday will be a Sugar High Friday…on a Friday! Hooray!