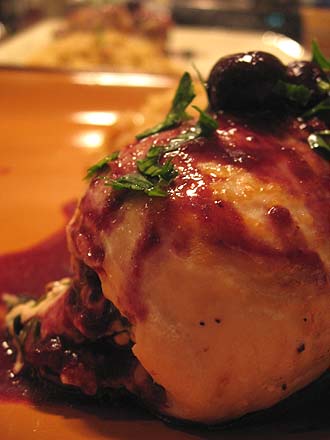 Edited because I forgot about the spinach. Oops!.
Three. Four. Count 'em, three four super foods: turkey, walnuts, blueberries and spinach. Woohoo. I saw a recipe for a blueberry-port sauce which I thought looked very good (originally, it was alongside a pork tenderloin) but instead, I decided to pair it up with a stuffed chicken breast.
But — hold the phone, there. Swap the chicken for turkey and add some walnuts and spinach to the goat cheese and hey! It's a Super Foods meal.
The idea for the turkey is almost exactly like the stuffed chicken breast I have been known to make on occasion. Pound it out between layers of plastic wrap, spread it with a little goat cheese and walnuts (or some kind of tasty stuffing), roll it up, cook and voila. This is just like that.
Turkey Stuffed with Goat Cheese & Walnuts with a Blueberry-Port Sauce
4 turkey tenderloins, pounded flat
4 oz goat cheese, softened
1/2 cup frozen spinach, defrosted
1/2 tsp lemon zest
1/4 cup walnuts, toasted
2 cloves garlic, minced
2 tbsp olive oil
1/3 cup red wine vinegar
1/2 cup port wine
2 tbsp minced shallots
2 sprigs fresh thyme
1 bay leaf
1/2 cup chicken broth
2 cups blueberries (I used frozen)
salt & . . . → Read More: Super Foods Friday #5: Turkey Stuffed with Goat Cheese & Walnuts with a Blueberry-Port Sauce