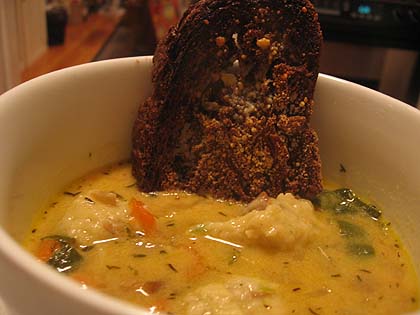 The inspiration for this soup was the cookbook, Twelve Months of Monastery Soups and a container of leftover mashed potatoes. Actually, I'm not sure how this happened as leftover-any-kind-of potaoes are not something we generally have to deal with at this house.
But back to the recipe which is potato dumpling soup. But here's the thing — I took the cookbook to work, planning on reading through it over lunch but then I left it at work. So, no cookbook that night at home. I totally had to wing it. I think this turned out pretty well as I couldn't really remember what was in the original recipe and sort of had to come up with my own version of potato dumpling soup.
I was planning on changing it a bit anyway (using broth for the water used in the book and well, adding the porcinis) so it probably wasn't that big of a deal that I did not have the original recipe to consult.
The recipe uses leftover mashed potatoes, so it's a great use for those. If you don't have any leftover, well, just make some, I suppose. I was lucky in that the potatoes I had in . . . → Read More: Kind of From a Cookbook: Porcini & Potato Dumpling Soup