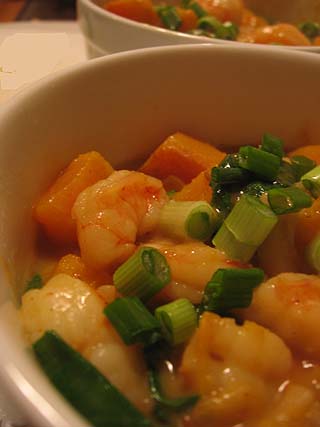 Here's a recent meal that we had that was kind of based on a recipe I saw in Bon Appétit, but I changed a lot of it, so it ended up pretty different. It started with a butternut squash on the counter that I really had to use and a recent trip to Pok Pok shack for Khao Soi Kai (the noodly-chickeny-coconut soup) and its accompanying hot chili paste, plus extra tasty embellishments (cilantro, lime, pickled things, crunchy things). What to do with the leftover chili paste? Hmmmmmm…
Then I see a recipe for squash, coconut milk, lime, curry paste, jalapeno and noodles. The wheels start to turn. turn. turn. turn. I go to the store and pick up a few more things, defrost the shrimp I have in the freezer and here I am with:
Butternut Squash with Coconut, Lemongrass, Shrimp & Basil, etc…
2 tbsp olive oil
1 medium white onion, chopped
1 medium butternut squash, peeled, seeded, cut into 1/2- to 3/4-inch pieces
2 cups chicken broth
1/4 Р1/2 tsp Thai chili paste (or 1 minced, seeded jalape̱o chili, or some other kind of hot chili paste, or etc..)
1 1-inch piece of ginger, peeled
1 piece of lemongrass, cut in half
2 cloves garlic, minced
1 can light unsweetened coconut milk
1 tsp curry powder
1/2 tsp cumin seeds
2 big handfuls of fresh baby spinach
1/2 lb shrimp, cleaned and if desired, tails removed (I do that when I put it in soups, just because it's easier to eat)
Juice of 1/2 a lime
12 ounces dried udon noodles or linguine
1/4 cup chopped fresh basil
Extra Garnissh: Chopped green onions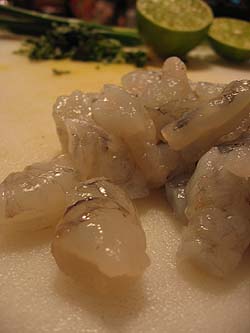 Shrimp waiting patiently…
Heat oil in large nonstick skillet over medium-high heat. Add onions, garlic and squash. Sauté until nice and slightly golden, about 7-10 minutes. Add the curry and cumin seeds and mix to combine.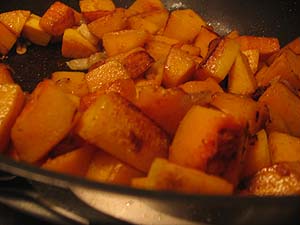 If your skillet is big enough to hold everything, use it for the rest of the soup. If not, use a big soup pot for everything and transfer the squash, onion mixture to the bigger pot after you add the broth. So, add broth and scrape up any golden, cooked tasty things from the bottom of the pan. (Transfer here if needed). Add the ginger piece and the lemongrass. Stir in coconut milk and chili paste — just a bit here, you can always add more. I probably added about a 1/4 teaspoon total and it was plenty hot and spicy.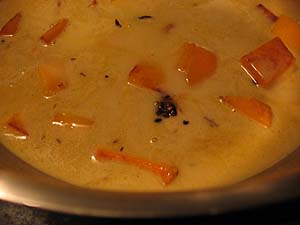 Simmer uncovered until squash is completely tender and liquid is slightly reduced, about 8-10 minutes. Season to taste with salt.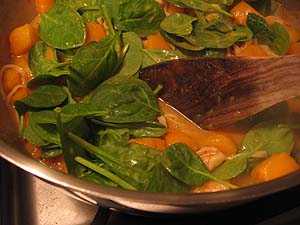 Add the spinach and shrimp. Cook 2-3 more minutes until spinach has wilted and shrimp is about done.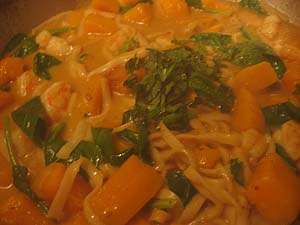 Meanwhile (and you should start this step when you add the coconut milk and everythign else to the squash), cook noodles in large pot of boiling salted water until just tender but still firm to bite. Drain noodles. Add the noodles into the squash mixture and toss to blend. Give it all a squirt of lime and top with basil and green onions, if desired. Try to fish the lemongrass and ginger out. Serve. Have extra chili paste on the side for crazy people. Plan the next trip to Pok Pok for more soup and all the soup extras.