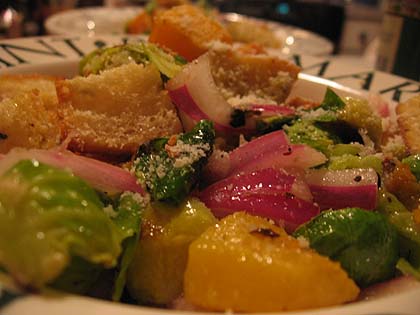 This was one of those recipes where I saw it on TV and rushed right out to get the ingredients. Plus it just looks so pretty all put together. jwa really liked it too — he had three bowls. And hey! It's a salad. Salads are healthy and good for you.
The original recipe boiled the Brussels sprouts to cook them, which, you know, why boil when you can roast? Also, this way, you don't loose any nutrients from the vegetables out in the boiling water — you just crispy them up. This will probably work for about four people as a nice side — this would be great alongside a bowl of soup. As a whole meal figure two hungry people.
Colorful Winter Panzanella
Adapted from a recipe by Michael Chiarello
For the croutons:
3 tbsp extra virgin olive oil
3 cloves garlic, minced
2 teaspoons finely chopped fresh thyme
4 cups day-old bread, crust removed, cubed
3 tablespoons finely grated Parmesan, plus more for garnish
Salt and freshly ground black pepper
For the salad:
1/2 a red onion, sliced thinly lengthwise
3 tablespoons sherry vinegar (I substituted red wine vinegar)
Gray salt
1 lb peeled, seeded, and diced butternut squash (1/2-inch dice)
1/4 cup plus 2 1/2 tbsp extra-virgin olive oil
1 tbsp chopped fresh sage
Freshly ground black pepper
1/2 pound Brussels sprouts, ends trimmed, then quartered (if sprouts are very small, just halve)
1/2 cup fresh Italian parsley leaves
Preheat oven to 400 degrees F. Add the olive oil to a large skillet over moderate heat and let it heat up a bit. Add the garlic and thyme, and immediately add the bread cubes. Toss to coat well. Add most of the grated cheese and stir. Transfer bread to a baking sheet and sprinkle with the remaining cheese and salt and pepper and gently toss again while still warm to melt the cheese. Bake stirring once or twice, until the croutons are crisp and lightly colored on the outside but still soft within, about 10 to 15 minutes. Set aside and let cool.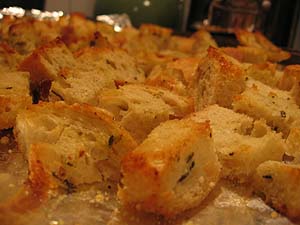 Soak the sliced onion in the vinegar and a pinch of salt for about 15 minutes. Set aside.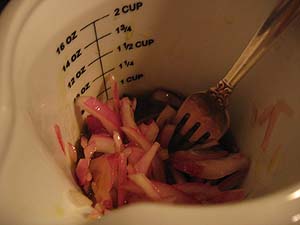 Toss the squash with 1 1/2 tablespoons of the olive oil, sage, salt, and pepper. Arrange in a single layer on a baking sheet. Next toss the Brussels sprouts with about a tablespoon of olive oil, salt and pepper and arrange on a second baking sheet.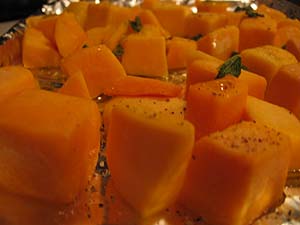 Bake both vegetables until the squash is tender and lightly caramelized, about 15 to minutes and the sprouts are tender and begin to turn about golden, 10-12 minutes. Let both cool down just a bit.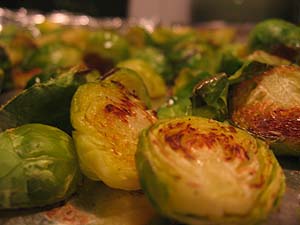 Into the reserved red onions and vinegar, whisk in remaining 1/4 cup olive oil. Season with pepper. Taste and adjust olive oil to vinegar ratio if needed.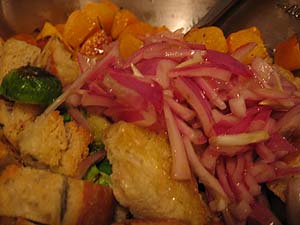 In a large bowl combine the roasted squash, croutons and sprouts. Add the vinaigrette and toss. Add the parsley leaves and toss again. Taste and adjust the seasoning if needed. Garnish with grated Parmesan and serve.