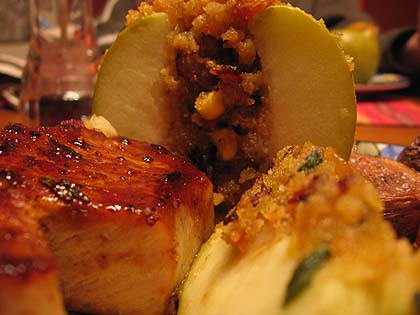 A couple of weeks ago I caught an old episode of Food 911 with Tyler Florence and I was very intrigued by some stuffed, baked apples that were made. But even more so, I loved the apple corer. I have always wanted one but always seemed to forgot to look for the gadget whenever I was in a store that sold them. Oh but no more. I went to the Kitchen Kaboodle by my work the very next day and got an apple corer.
They are very fun. Are they a dreaded unitasker? Probably. Don't care. Sorry, AB.
So, there I am with my apples, my corer, my corn bread muffins. What else did I need? Pork! The pork chop recipe is also from Tyler Florence. The brine called for 1 cup of apple juice concentrate but I omitted that. We had the apples and pork chops with a side of roasted purple potatoes and carrots. It was delicious.
Baked Apples with Corn Bread Stuffing
(I roughly quartered this recipe as there's only two of us and I only needed 2 apples, but I kept the 1 cup of cider)
8 gala apples (I used granny smith)
1/4 cup (1/2 stick) unsalted butter, at room temperature
1 large corn muffin, crumbled (about 1/2 cup)
1/2 cup golden raisins
6 fresh sage leaves, coarsely chopped
2 garlic cloves, chopped
3 tbsp dark brown sugar
Kosher salt and freshly ground black pepper
1 cup hard cider
1 sprig of rosemary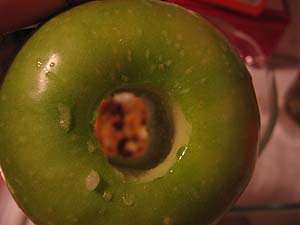 Core the apples with an apple corer, making a good size cavity to hold the stuffing. In a mixing bowl, combine the softened butter, muffin crumbs, raisins, sage, bacon, garlic, brown sugar, salt, and pepper.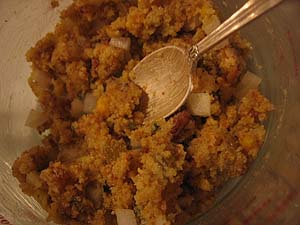 Spoon the sweet and savory stuffing into the cavities of the cored apples; stand them up, side by side, in a baking dish.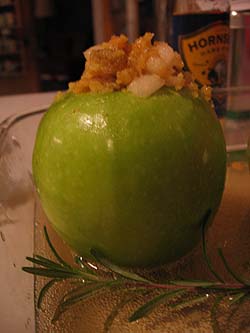 Pour the cider around the apples and add the rosemary sprig. Bake for 30 to 35 minutes at 375 degrees F, until soft when pierced with a knife. In a pot, reduce the cider for a few minutes. You can use it as a sauce for both the apples and pork chops.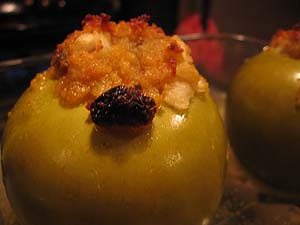 Thick Cut Pork Chops, Brined, Seared and Finished in the Oven
1 gallon water
1 cup brown sugar
1 cup salt
1 spring fresh rosemary
1 1/2 teaspoons whole black peppercorns
4 thick cut loin pork chops (mine were boneless, bone-in is fine too)
Sea salt and freshly ground black pepper
2 tbsp Extra-virgin olive oil
Preheat the oven to 350 degrees F.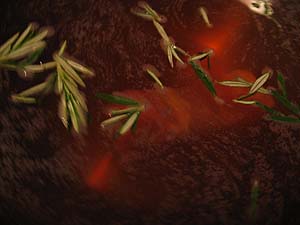 In a mixing bowl combine the water, brown sugar, salt, rosemary, peppercorns, and rosemary. Give it a good stir to dissolve the sugar and salt. Transfer the mixture to an extra-large re-sealable plastic bag. Submerge the pork chops in the brine, seal up the bag, and put it in the refrigerator for 1-2 hours to tenderize the meat.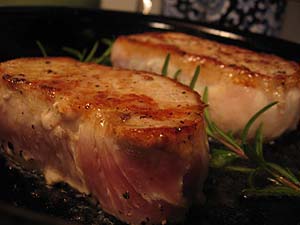 Remove the pork chops from the brine and pat them dry with paper towels. Sprinkle both sides of the meat with salt and pepper. Put a heavy skillet over medium-high heat. Drizzle the olive oil and get it hot. Lay 2 pork chops in the pan and brown 4 minutes per side.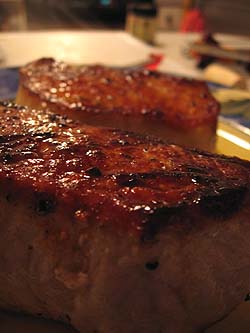 Remove the pork chops to a large baking pan; brown the remaining 2 chops and add them to the others in the pan. Put the baking pan in the oven and roast the chops for 10-20 minutes (this will really depend on the thickness — if you're using boneless chops, check after about 8 minutes to see how they are doing). The pan side of the chops will get this really amazing, crusty glaze to it. Make sure you serve it that side up so that everyone can see the awesomeness.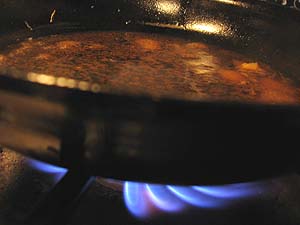 Cider sauce reducing with pan drippings.
The pork is done when the center is still rosy and the internal temperature reads about 145 degrees F when tested with an instant-read thermometer.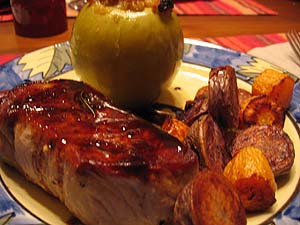 Let the pork rest for about 10 minutes. After resting, pour any accumulated juices into the reducing cider sauce and serve with the pork, apples and roasted veggies if you make those too.