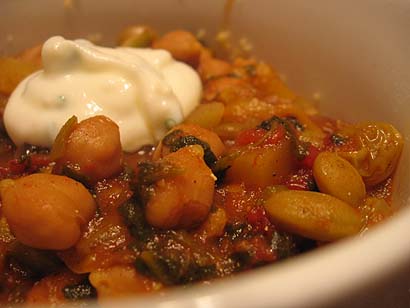 Here it is 2007 and it's time to start eating healthy. Really. I mean it this time! So, it was very good fortune that the theme of this month's Weekend Cookbook Challenge is stew. And it's the perfect time of year around here for a warm and comforting stew. No snow, but our lows have been in the 30′s. Brrrrrrr.
Since I am thinking about low-fat, healthy meals right now (huh — good thing I won't be posting about those homemade refried beans I made tonight until later in the week), I chose a vegetarian stew. Moroccan Style Chick Pea Stew from the cookbook, Fresh from the Vegetarian Slow Cooker by Robin Robertson. It's chock full of chick pea, vegetables and spice. It makes the house smell so amazing. Also, it's a very easy recipe to substitute ingredients. I had no carrots, green beans or peas on hand when I made this. Not a problem. I used some defrosted frozen spinach and lima beans instead and it all turned out just great.
Moroccan Style Chick Pea Stew
1 tbsp olive oil
3 shallots, chopped (or 1 small white onion)
1 large carrot, chopped (alternatively, throw in about 1 cup defrosted and drained frozen spinach)
1 small yellow bell pepper, seeded and chopped
2 cloves garlic, minced (up from the one the recipe calls for)
1 tsp peeled and minced fresh ginger
1/2 tsp ground cinnamon
1/2 tsp ground cumin
1/4 tsp smoked paprika
1/4 tsp turmeric
8 ounces green beans, trimmed and cut into 1-inch pieces (or, use some lima beans, frozen and defrosted — about 1 cup)
1 can chick peas (garbanzo beans), drained
1 can diced tomatoes (or whole works too, just break them up a bit)
1 1/2 cups vegetable stock
1 tbsp fresh lemon juice
dash of red pepper flakes
salt and pepper
1/2 cup frozen peas, thawed (I omitted)
1/4 cup dried fruit, chopped (I used dried mangoes and golden raisins)
1/4 cup green olives, pitted and chopped (mine were stuffed with feta)
Garnish: chopped parsley and/or garlicky yogurt
In a large skillet, heat olive oil over medium heat. Add the shallots, carrot, bell pepper and garlic. Cover and cook until softened, about 5 minutes. Add the ginger, cumin, cinnamon, paprika and turmeric, and cook, stirring about 30 seconds to bring out the flavors.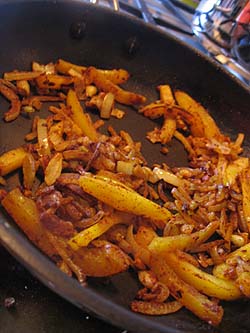 Next, transfer the mixture to a crock pot. Now, you just start layering. Add the spinach (if using), chick peas, tomatoes, stock, red pepper flakes, lima beans (if using) and lemon juice. Add a little salt and pepper.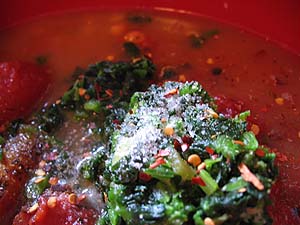 Stir, cover and cook for 6-8 hours on low.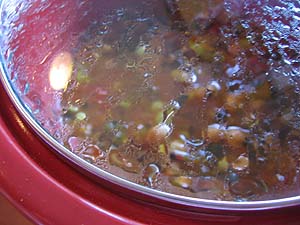 About 20 minutes before serving, add the peas (if using) and dried fruit. When ready to serve, stir in the olives.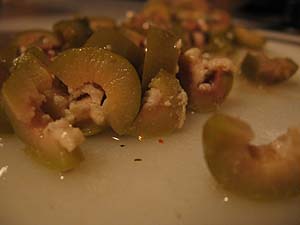 Adjust seasonings and ladel into bowls. Top with a little garlicky yogurt if desired. Perhaps a sprinkle of parsley? We had this on top of some pistachio couscous — (scroll down for recipe). So, so good.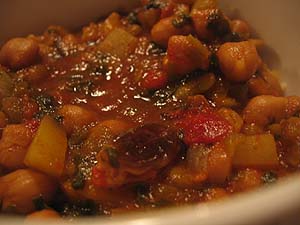 Thanks again to Sara at Weekend Cookbook Challenge and this month's guest host, Shaun at Winter Skies, Kitchen Aglow.