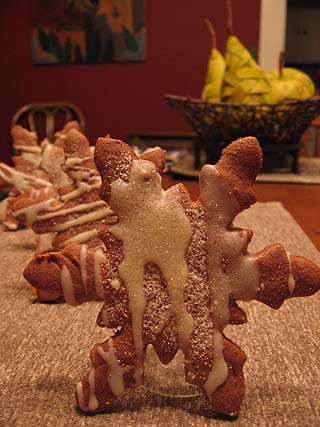 This month's Sugar High Friday is hosted by Habeas Brulee and the theme is a great one — sugar art. Of course, with it being the holidays and everything, I kind of took the lazy way out and made cookies decorated with sparkly sugar. These are very much like chocolate shortbread and are very good. I actually found them to be even tastier the day after baking.
The recipe is from the book, Christmas Cookies, edited by Susan Hernandez Ray. I received it a couple of months ago when I accidentally forgot to decline the monthly selection at the Good Cook's Book Club. Oops.
Chocolate Star Cookies
1 1/2 cups butter, softened
2 1/2 cups sifted powdered sugar
2 large eggs
1 tsp vanilla extract
3 cups AP flour
1 cup Dutch process cocoa
1/4 tsp salt
1/2 tsp ground cinnamon
8 ounces white chocolate chips
1/4 cup granulated sugar
Beat butter at medium speed with an electric mixer until creamy. Gradually add the powdered sugar, combining well. Add the eggs and vanilla and beat until blended.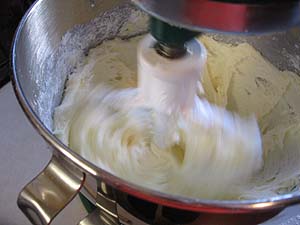 Combine the flour and next three ingredients and gradually add to the butter mixture at low speed. Divide dough in half and wrap each potion in plastic wrap. Chill at least one hour.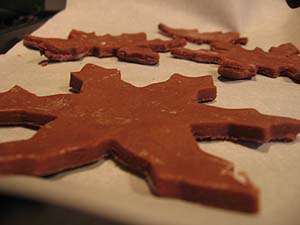 Roll one portion at a time to 1/4 inch thickness on a floured surface. Cut with a 4-inch star cookie cutter and place on parchment-lined baking sheets. I used both a star cookie cutter and a small gingerbread man cutter. Feel free to use your cookies cutters of choice.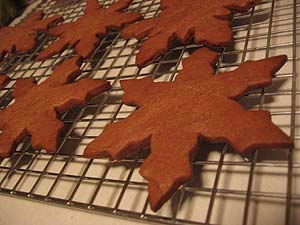 Bake at 350 degrees for about 10 minutes. Remove to wire racks and cool completely. Next, place chocolate chips in a small double boiler (or a heat-proof bowl over simmering water) and melt. Stir until smooth and use a spoon to drizzle over cooled cookies. I've found that a good way to do this is to place a cooling rack over a cookie sheet, so that all the extra drizzled chocolate falls through the rack and onto the cookie sheet. I believe I got that idea from Alton Brown and the chocolate eclair episode.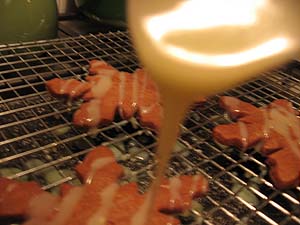 Sprinkle the granulated sugar on top of the warmed chocolate and let set.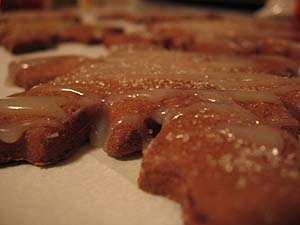 Enjoy with milk. Although — watch out for falling gingerbread man heads.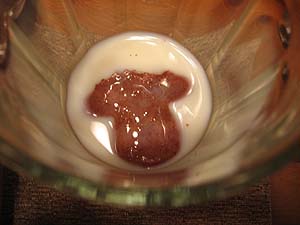 Thanks again to Habeas Brulee for hosting this month's event!