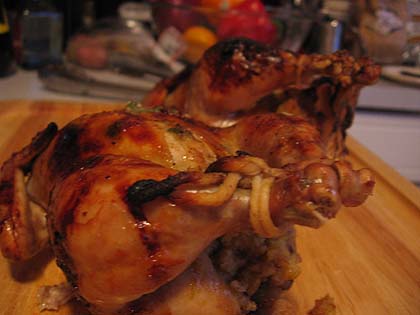 We have a Christmas tradition (when we're at home) of having Roasted Cornish Game Hens for Christmas dinner. And they are so-so-so good! Especially so after I got the book, "The Cook's Illustrated Complete Guide to Poultry (since re-named as the Complete Book of Chicken…). The book is the poultry and fowl bible, as far as I am concerned. This book has never let me down and this recipe is no exception.
I basically follow the book exactly, except that I add veggies to the pan and I rub some roasted garlic, butter and sage under the breast skin. That's what I do with turkey too. It just seemed like a good idea for hens as well. Really, what piece of poultry could you not do this with? I don't ever want to find out.
Roasted, Stuffed Cornish Game Hens
Based very closely on the Cook's Illustrated recipe
2 cups kosher salt or 1 cup table salt
2 Cornish hens (each less than 1 1/2 pounds if possible), trimmed of extra fat, giblets removed, rinsed well
6 tbsp balsamic vinegar
3 tbsp olive oil
1/4 cup dry vermouth or white wine
1 small head garlic, wrapped in foil and roasted until soft (400 degrees for about 30-40 minutes)
2 tbsp butter, softened
4 leaves fresh sage, chopped
Assorted root vegetables (sweet potatoes, potatoes, parsnips, carrots, etc…)
Dissolve salt in 5 quarts cold water in small clean bucket or large bowl. Add hens breast side down; refrigerate 2 to 3 hours. Remove, rinse thoroughly, pat dry, and prick skin all over breast and legs with point of a paring knife. Now, this is what I do: mix the roasted garlic, softened butter and sage together and push it up under the skin of the breast. Mmmm!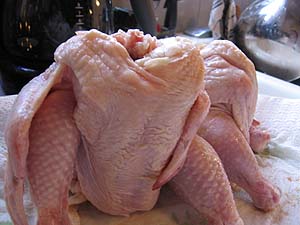 Adjust oven rack to middle position and heat oven to 400 degrees. Whisk balsamic vinegar and oil in small bowl; set aside. Spoon 1/2 cup hot stuffing into cavity of each hen; tie its legs together with 6-inch piece of kitchen twine.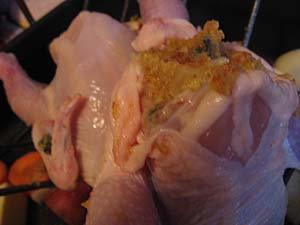 Add the vegetables to the bottom of the roasting pan. Leaving as much space as possible between each bird, arrange them breast side down and wings facing out, on large (at least 19-by-13–inch) wire rack, set over equally large roasting or jelly-roll pan. Roast until backs start to get a bit golden, about 25 minutes.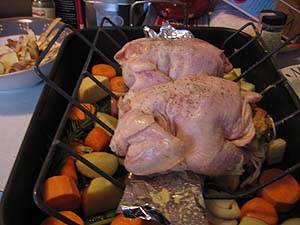 Remove pan from oven, brush bird backs with vinegar and oil glaze (re-blending before each bird), turn hens breast side up and wings facing out, and brush breast and leg area with additional glaze. Returned pan to oven, add 1 cup water, roast until meat thermometer inserted into the stuffed cavity registers about 150 degrees, about 15 to 20 minutes longer.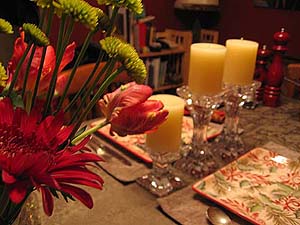 No picture of the hens here — let's check on the table!
Remove pan from oven again, brush birds with re-blended glaze, return pan to oven, add another 1/2 cup water to pan and increase oven temperature to 450 degrees. Roast until birds are spotty brown and cavity registers 160 degrees, 5 to 10 minutes longer, depending on bird size. Remove birds from oven and let rest for 10 minutes.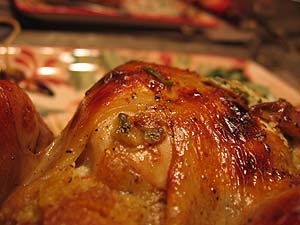 Meanwhile, pour hen "jus" from roasting pan into small saucepan, spoon off excess fat, add vermouth or wine, and simmer over medium-high heat until flavors blend, 2 to 3 minutes. Drizzle about 1/4 cup sauce over each hen and serve, passing remaining sauce separately.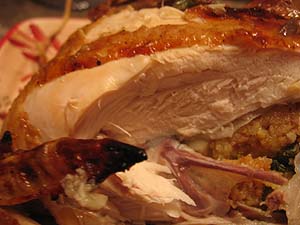 For the stuffing, I made a simple cornbread concoction by cubing and toasting 3 corn muffins and mixing those with some sauteed celery, onion and garlic (in a bout 2 tablespoons of butter), some fresh sage and some chicken broth. I also threw in some fresh rosemary and some golden raisins.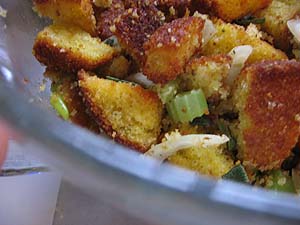 When you remove the hens from the oven, you will also want to remove the vegetables and collect any drippings you have for the jus. After the birds rest, there will also be some drippings you can add to the pan.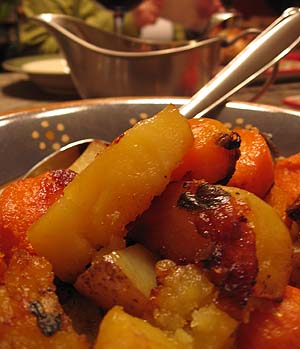 I think these would be a great special weekend meal and this year I'm really going to remember to make some one night. The Cook's Illustrated book has all kinds of ideas on stuffing too. There's a version that is stuffed with barley and basil pesto. Those hens would probably be wonderful with some reconstituted sundried tomatoes and chopped olives spread under the skin. Huh. Okay, I think we'll be having that soon.
A special thanks to jwa for giving me a ride to work this AM, so I could stay at home longer and finish this post.