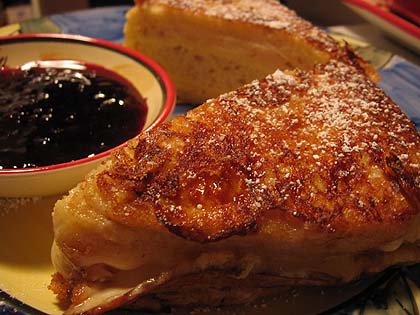 When I was little, whenever we'd go out for lunch, I would get a Monte Christo sandwich. It was my absolute favorite. I think it was the, "I'm eating French Toast for lunch!!", thrill of it all. Granted, this was a simpler time, long before Freedom Toast.
Recently, however, I was browsing thorugh the Food Network site and saw this recipe, originally featured on Sara's Secrets — recipe from Mama's on Washington Square, San Francisco, CA. So, grab a pan and some eggs, bread, meat and cheese and let's make some freedom on a plate, San Francisco-style.
Monte Christo Sandiches (makes 2)
4 slices white bread
Mayonnaise, as needed
4 slices Gouda or Havarti
4 slices smoked turkey
2 large eggs, beaten
1/4 cup milk
2 tbsp vegetable oil
1 tbsp unsalted butter
Optional: Powdered sugar
Serving suggestion: Really good blackberry jam on the side.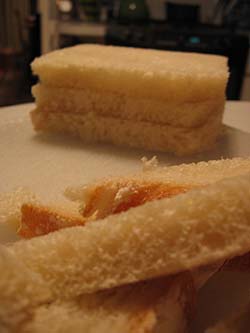 Using a knife, cut the crusts off the sandwich (this helps to pinch and seal the ends). The, lay out 2 slices of bread and spread with mayonnaise. Top each slice with the 1 slice of Gouda and 1 slice of turkey each. Put the third slice of bread on top of one stack, and flip the remaining stack on top, cheese-side down, to make a triple-decker sandwich.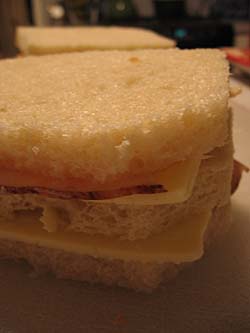 Wrap the sandwich tightly with plastic wrap and refrigerate for at least 30 minutes and up to 6 hours. (Wrapping the sandwich in plastic wrap, compacts it, and prevents the egg batter from seeping in.)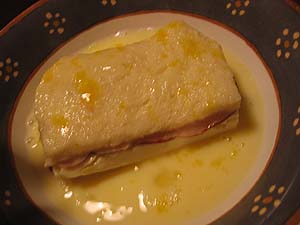 Combine the eggs and milk in a bowl. Heat the oil and butter in a skillet over medium-high heat. Unwrap the sandwich and dip it in the egg batter, to coat evenly. Gently place it in the skillet, and fry, turning once, until golden brown and hot, about 5 minutes total.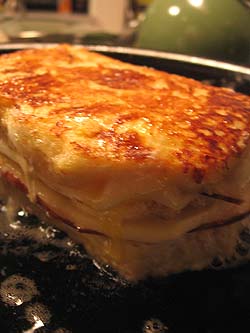 Use tongs to hold the sandwich upright and crisp up all the ends (so there are no spots with raw, soggy egg).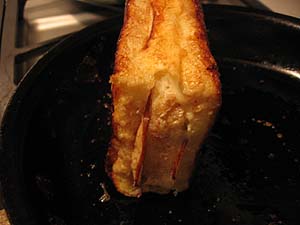 Remove from the pan and let sit about a minute.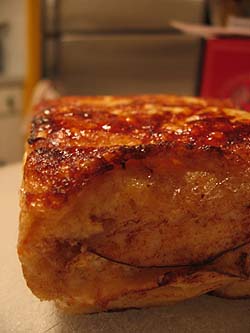 Cut the Monte Cristo in 1/2, transfer it to a place, and garnish with a side of blackberry (or your favorite) jam. We used Julieann's blackberrry jam, which we picked up on our last trip to Uncle Paul's Produce Market on Hawthorne (which we, of course, refer to as "Produce Pete's"). If desired, use a mesh strainer to sprinkle a little powdered sugar over the sandwiches.