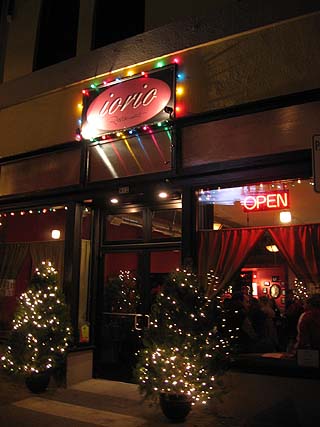 Iorio
912 SE Hawthorne Blvd.
Portland, OR 97214
(503) 445-4716

I pass this restaurant pretty much every day (unless I catch the Division bus instead of the Hawthorne one) on my way home from work. It always looks so cozy and inviting. Bright red walls, soft lights and lately — a big Christmas tree in the middle of the restaurant, as well as two white-light decorated tress guarding the doorway.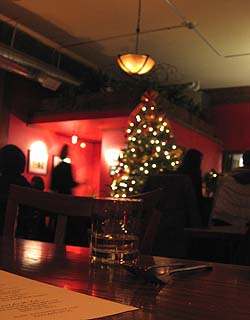 I talked jwa into trying this place Saturday night and I'm very glad I did. We had a great two hour dinner and a very nice time. The meal started with a couple of complimentary snacks — bread with a squash dip and a small plate of marinated garbanzo beans with a balsamic drizzle and shaved Parmesan. Both were fabulous!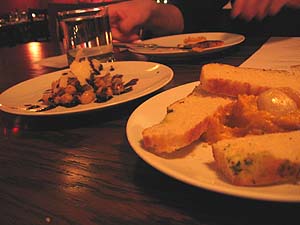 The meal itself was a hard choice. However, I have a rule that whenever calamari is on a menu we have to have it. At Iorio this meant calamari with a cornmeal crust and accompanied with a herbed aioli and Serrano chile oil. I really liked it. The calamari was tender and the breading not too heavy and the dipping sauces were especially good.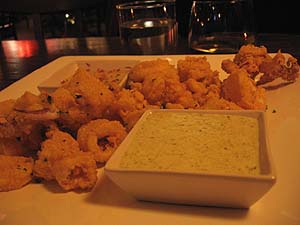 After much debate and a small debacle where I accidentally burned a hole in my menu with the table's candle. Oops. jwa was very amused, though. Anyway, where was I? Oh yes. Our meal decisions. Well, we went back and forth a bit on whether we could order the same thing and came to the conclusion that in this one instance it was okay. So, we both got the Chef's tasting Menu — 4 courses for $30.
First Course
House smoked local salmon Caesar salad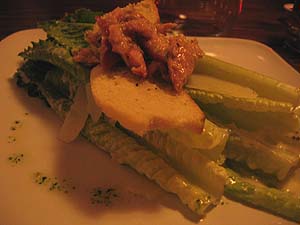 Second Course
Handmade gnocchi with arugula oil and baby Gorgonzola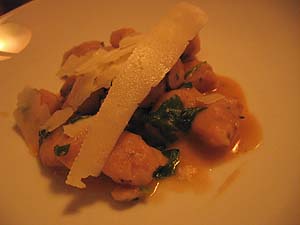 Third Course
Grilled baby quail with root vegetable pave and braised greens with cider glaze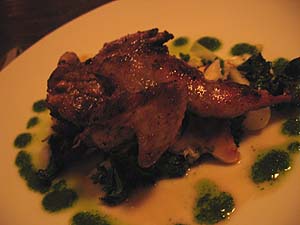 or
Pan seared ling cod with chestnut butter and root vegetable pave (we both got the quail — it was all little and cute)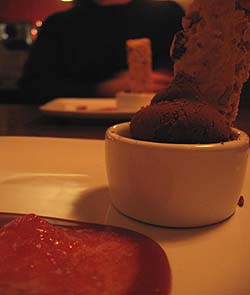 Dessert
Pots au chocolate
It was dee-licious. We decided to get the wine pairings for $7 more each, which included a glass of pinot grigio with the salad and gnocchi and a chianti with the quail. They were good wine pairings, but I ended up getting an extra glass of white wine as I ran out of my first glass during the calamari. Oops. Next time, I think we will just get a full bottle of something.
With our pots au chocolate, jwa had coffee (illy) and I had a coffee nudge (illy + Kahlua and Bailey's). The meal ended with another complimentary item — cookies* (I know the kind has a specific name but it escapes me at the moment), as well as the check.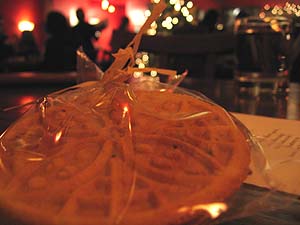 All in all, it was a very good meal and I think we'll definitely be going back again.

Iorio gets three holiday lights out of four holiday lights.
* Interesting fact: if you have a bite of one of the leftover Iorio check cookies and a drink of Bridgeport Ebenezer Ale — the combination in your mouth tastes like roast turkey. Fascinating.