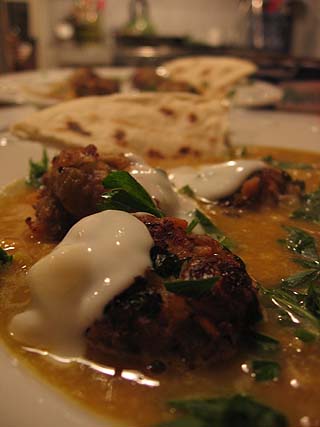 This is a recipe I found on Epicurious about a year ago, emailed it to myself and then forgot about it. While cleaning my recipe folder out last week I came across it. Good things happen when you tidy up your email folders, people!
While the lentil soup was good, the meatballs make it awesome. In fact, a great appetizer would be to whip up a batch of the meatballs and serve them with some cherry tomatoes, chunks of cucumber and kalamata olives. Oh, okay, throw in some feta cubes, the yogurt and flat bread too. You could also impale the meatballs, cucumber and olives on wooden skewers and pretend you are Sandra Lee (but, you know, with actually appetizing and edible food).
Epicurious says that this recipe is adapted from Wolfgang Puck, "Adventures in the Kitchen".
Lentil Soup with Lamb Meatballs
This makes 8-10 servings, so halve it if needed. That's what I did and it worked fine. Just beat an egg first, then divide that in half.
Soup:
3 tablespoons olive oil
1 1/2 cups chopped red onion
1/2 cup diced carrot
5 cloves garlic, chopped
1 tbsp turmeric
2 tsp ground cumin
1/2 celery stalk
1 branch fresh parsley
1 branch fresh thyme
1 pound golden lentils (or regular lentils, if not available)
10 cups chicken stock or store-bought chicken broth (or turkey stock!!)
Salt and freshly ground pepper
Pinch chili pepper flakes
Meatballs:
1/2 cup fresh bread crumbs
1/4 cup milk
1 pound ground lamb
1 cup blanched almonds, toasted and ground
1/3 cup chopped onion
1/3 cup raisins, coarsely chopped
1 egg, lightly beaten
3 cloves garlic, minced
2 tbsp chopped fresh parsley leaves
1 tbsp chopped fresh cilantro leaves
1/4 teaspoon chili pepper flakes
Salt and freshly ground pepper
2 tbsp olive oil, plus more for drizzling
Garnish:
1 cup plain yogurt
1 tbsp chopped fresh mint leaves
1/2 tsp lemon zest
1/2 tsp fresh lemon juice
1 tsp honey
Pinch salt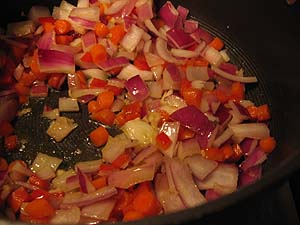 Start with the soup. In a large saucepan, heat up the olive oil. Add the onion, carrot, garlic, turmeric, and cumin. Saute over high heat until the onions are soft, about 5 minutes. Meanwhile, make a bouquet garni by tying together the celery, parsley, and thyme, and add to pan.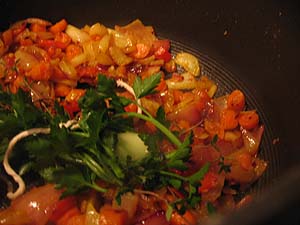 Stir in the lentils and the chicken stock, season lightly with salt, pepper, and chili flakes, and bring to a boil. Reduce the heat and simmer for 25 to 30 minutes, or until the lentils are tender. Skim as necessary.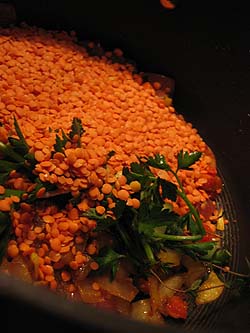 Meanwhile, prepare the meatballs and preheat the oven to 350 degrees F.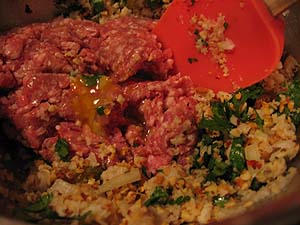 In a small bowl, soak bread crumbs in milk. In a mixing bowl, combine the lamb, almonds, soaked bread crumbs, onion, raisins, egg, garlic, parsley, cilantro, and chili pepper flakes. Season lightly with salt and
pepper. Drizzle olive oil on the platter you will place the meatballs on and rub oil into the palm of both hands. Form meat mixture into 40 golf ball-size meatballs, each approximately 1-inch in diameter.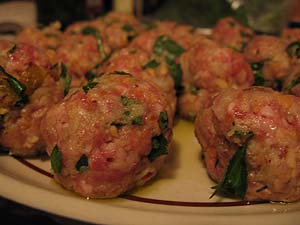 Heat 2 tablespoons of olive oil in a large ovenproof skillet or saute pan. Arrange the meatballs in 1 layer in the pan, quickly sear meatballs over high heat, and then place in the oven. Cook until the meatballs are well
browned and firm to the touch, 8 to 10 minutes.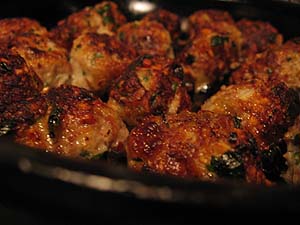 Prepare the yogurt garnish. In a small bowl, combine all ingredients. Refrigerate until serving time.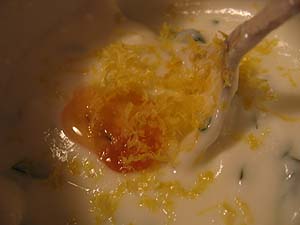 Now, return to the soup. Remove the celery bouquet. With an immersion blender, lightly blend soup (you want it to still be a little chunky).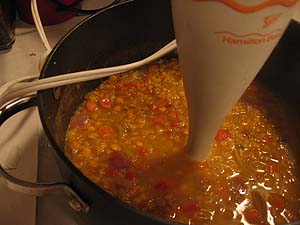 Alternatively, transfer 2/3 of the soup to a blender. Blend until smooth and return to the saucepan. Adjust seasonings to taste.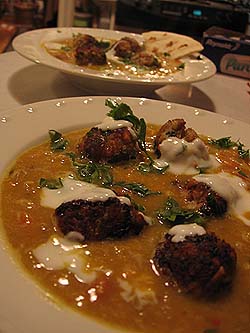 Ladle soup into 8 or 10 soup bowls. Divide the meatballs evenly among the soup bowls and drizzle the yogurt mixture over. Serve immediately. Mmmm!
Okay. Now, it's time to make more cookies!