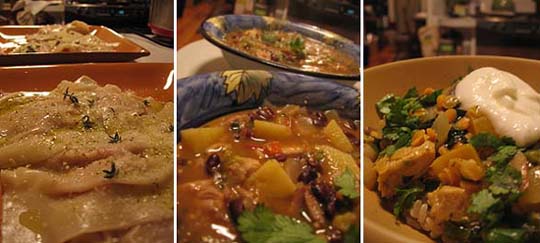 So far, I have made Turkey & Cranberry Ravioli, Turkey-Tomatillo Soup and Turkey Green Curry. I have one more zip lock bag full of diced turkey in the freezer and I am looking for ideas. Help!
Below are the recipes for the soup and the curry that I came up with. They were both sort of spur of the moment dishes, so I've recounted them to the best of my recollection. Should be close enough.
Turkey & Tomatillo Soup
12 tomatillos, husks and cores removed
1 1/2 cups diced, cooked turkey
1 tbsp canola oil
1 1/2 – 2 cups turkey stock (or chicken stock)
1 white onion, diced
1 clove garlic, minced
1 large sweet potato, peeled and cubed into bite-sized pieces
1 jalapeno, diced
1 can of black beans, drained
1/2 tbsp of your favorite Mexican spice blend (ideas — a mix of cumin, Mexican oregano, red pepper flakes & dried cilantro flakes)
2-3 tomatoes, diced
cilantro leaves and lime wedges for garnish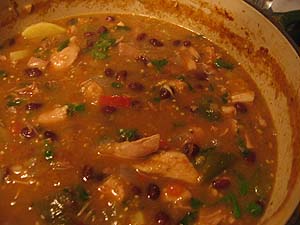 Heat the oil in a large soup pot. Add the onion, tomatillo, garlic and jalapeno. Let cook about 10 minutes until onions are nice and soft and the tomatillos start to break down. Add the stock and bring to a simmer.
Next, add in the turkey, black beans and sweet potatoes. Give it about 10 more minutes to let the potatoes cook. Stir in the tomatoes and salt and pepper to taste. Garnish with cilantro and lime and wedges. Eat with plenty of tortilla chips.
Turkey Green Curry
1 can of lite coconut milk
1 1/2 cups cooked, diced turkey
1 tsp tumeric
1 tsp cumin seeds
1-2 tbsp green curry paste
1 onion, diced
1 yellow bell pepper, diced
1 tbsp canola oil
1/2 cup red lentils
1/2 cup golden raisins
1/2 cup turkey stock (or chicken stock)
1 cup frozen spinach, defrosted and drained of excess water
salt
cilantro leaves & plain yogurt for garnish
cooked basmati rice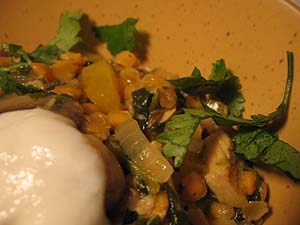 For this one, sauté the onion, bell pepper and garlic in oil. Then I added the cumin seeds and the green curry paste. Let that cook for about a minute then add the coconut milk, tumeric and stock. Add the spinach and bring to a simmer and let cook for about 5-6 minutes.
Next, add in the lentils. Cook until lentils are soft — about 15 – 20 minutes. Mix in the diced turkey, the raisins and then a little salt. Taste and adjust salt and green curry paste content. Serve in bowls over cooked basmati rice with some yogurt and cilantro leaves for garnish.