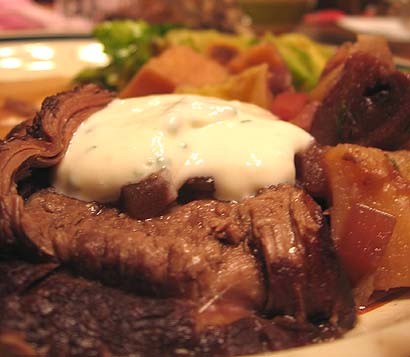 When I was growing up, we had pot roast pretty often. My grandmother would make it at least once a month and wow, did I hate it. Now, times then were different and she was cooking for a husband who refused to eat both garlic and onion (blasphemy!!!) but still, it was pretty bad. I really never thought I would ever want to make a pot roat of my very own.
That's why I was shocked when, after watching Dave Lieberman do a pot roast this Summer, I mentally filed the recipe away for future use. Because, damn — it looked and sounded so good. Moist and falling apart, soaking up all the flavor of red wine, honey, garlic and thyme. What's not to love about that?
Along with some horseradish cream and some braised brussels sprouts, the meal was a little piece of heaven on a plate. Who'd of thunk it?
Red Wine Pot Roast with Honey and Thyme
1 bottom round roast, about 3-4 pounds
Salt and freshly ground black pepper
5 tablespoons vegetable oil
3 small onions, medium diced
12-14 button mushrooms, quartered
1 head garlic (about 10 to 12 cloves), lightly smashed
1 pound carrots (about 4 medium), cut roughly into 1 1/2-inch pieces
2 cups low-sodium chicken, beef, or vegetable broth
2 cups medium-bodied red wine
2 1/2 tablespoons honey
5 to 6 sprigs fresh thyme
2 pounds russet potatoes, peeled and cut into 1 1/2 to 2-inch cubes (or use a combination of russet and sweet potatoes — that's what I did)
Preheat the oven to 350 degrees F.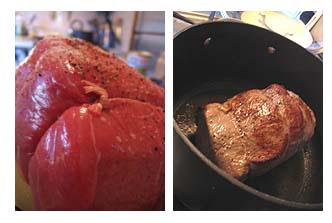 Season roast with salt and pepper. Heat oil in large oven-safe pot or Dutch oven over high heat for a couple minutes. Add the meat and brown well on all sides, about 10 minutes total. Remove and set aside on a plate. Lower heat to medium and saute onions, mushrooms, garlic, and carrots for about 5 minutes.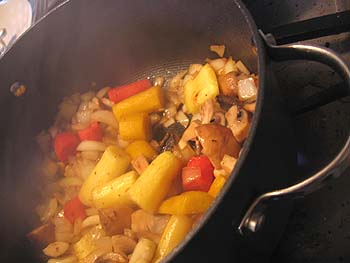 Add the broth, wine, honey, and thyme. Stir to combine and then add the roast back to the pot.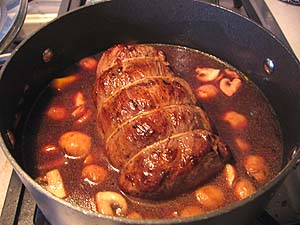 Cover pot and transfer to oven. Bake for 2 hours, turning the meat over twice.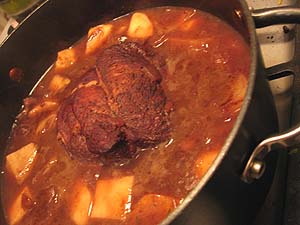 Add the potatoes to the pot and bake, uncovered, for another 30 to 45 minutes longer until both the potatoes and the meat are fork-tender.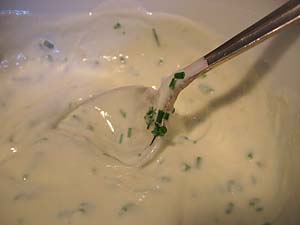 Let the roast rest for a few minutes in the pot and then serve.
Horseradish Cream
1 cup sour cream
2-3 tsp horseradish
A handful of chives, snipped into tiny chive pieces
Combine horseradish and chives with sour cream. Add more horseradish if desired. Serve with beef. That is all.