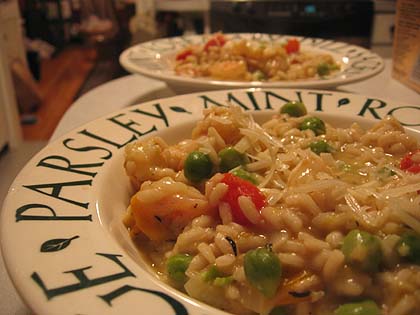 This was one of those, "hmmmm, I wonder what I could throw into a risotto?" kind of meals. Really, once you have arborio rice, broth, wine and Parmesan cheese, anything else goes. So, I had a bag of interesting green garbanzo beans from Trader Joe's in the freezer. I also had about a half pound of medium (say 36/40 count or somewhere around there — not too important, though) shrimp. Add some cherry tomatoes and it's the first risotto of the 2006/2007 season!
Shrimp, Garbanzo Bean & Cherry Tomato Risotto
1/2 pound medium shrimp (size doesn't really matter so much here, as you are going to slice the shrimp into bite-sized pieces — just don't use small bay shrimp)
2 tbsp olive oil
1/2 tsp dried oregano
1 1/2 cups arborio rice
3/4 cup halved cherry tomatoes
1 cup frozen green garbanzo beans, (you could easily substitute edamame, canned garbanzo beans or frozen peas)
1 small onion, diced
2 cloves garlic, minced
1/2 cup dry white wine
4 cups chicken broth (if your chicken broth is super chickeny, use a combination of chicken broth and water for the liquid)
1/2 cup Parmesan cheese
Juice of 1/2 a lemon
salt & pepper
Start with the shrimp. Rinse and devein as needed. Remove the tails, then slice in half length-wise. Cut those pieces in half if you are using super large shrimp. You want nice, bite-sized pieces. Salt and pepper the shrimp. Meanwhile, set a soup pot on the stove top and heat up the water and broth. Keep it at a simmer.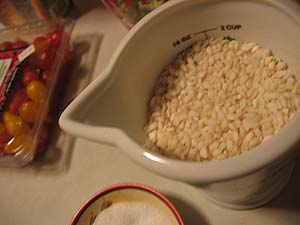 Heat 1 tablespoon of the oil in a large heavy-bottomed pot. Saute the shrimp for about 1-2 minutes, until pink. Remove from the pan and cover with foil. In the same pan, add the rest of the olive oil, the onion and the garlic. Let cook 2-3 minutes until they start to soften. Add the rice and dried oregano. Stir to coat in the oil and let toast about a minute.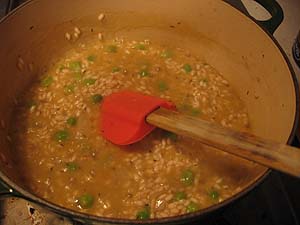 Now add the wine and stir while it is absorbed. Here's the fun part — add the water/broth about a 1/2 cup at a time until it is absorbed by the rice. When you have about a cup left, add the garbanzo beans and tomatoes. The nice part about doing this when it's cold out is that it keeps you warm.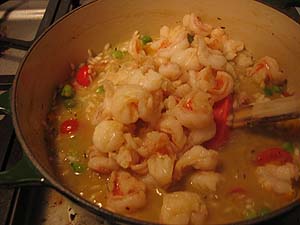 On your last addition of liquid, add the shrimp. Stir until a bit more of the liquid is absorbed and the texture is nice and creamy. Add the cheese and combine. Squeeze in the lemon juice and salt & pepper to taste. Serve with more Parmesan as a garnish.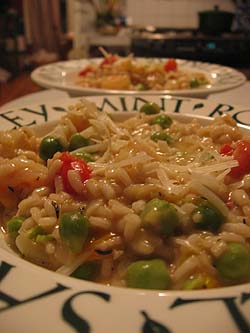 Next week: Some special baking, a retro thing, and a pot roast!