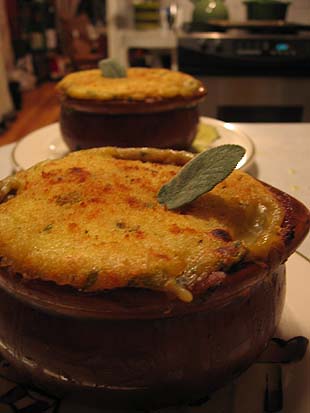 At Thanksgiving this year, we are having two non-meat-eating guests, which is not a super big thing as I myself was one of those types for many years. Because of this, I understand the holiday meal made of mashed potatoes, green beans and rolls. So, I have been trying to come up with some sort of main dish for them, along with the non-meat sides, of course.
I kept envisioning a vegetarian shepherd's pie, which after throwing all of my ingredients together, is pretty much the kind of dish that I came up with here. And the best part? It can be made and assembled the day before, stored in the refrigerator and baked in about 30 minutes — while the turkey rests, I'm thinking. Perfect!
Aside from it fitting in the schedule nicely, it was also very good. jwa and I had a practice meal last week — I even made it the day before and baked it from the fridge, so I do know that part works. In addition to being very hearty and satisfying, it's very Fall-ish and incorporates a lot of the Thanksgiving flavors into one non-meat dish.
And now I don't feel as guilty about . . . → Read More: Autumn Vegetable Stew with Mashed Sweet Potato Topping