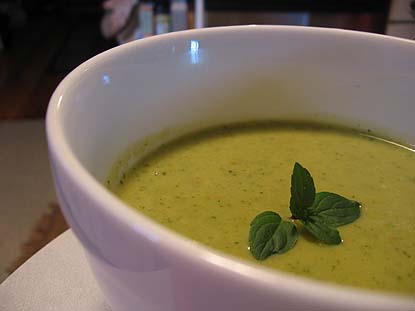 I have been on a soup kick, which is pretty easy for me because I love soup. Mostly creamy soups but I don't feel that guilty about it, because I almost never use actual cream. I use a potato for creaminess. Oh, and a big blender.
This soup came about because I had four zucchinis that I needed to use. I grabbed a sweet potato to add to the fun and some mint from out front, for I love the combination of zucchini and mint. Going with the green theme, I tossed in a handful of pistachios and ended up with a great, filling and healthy soup.
And it's even better the next day!
Zucchini & Sweet Potato Soup with Mint & Pistachios
3 cups chicken broth or water
4 small/medium zucchinis (about 5-6 inches long), halved and diced
1 medium white onion, diced
3 large cloves of garlic, minced
2 tbsp olive oil
1/4 tsp dried thyme
1 small sweet potato, peeled and diced into about 1-inch cubes
1 tsp salt
1/4 tsp pepper
1 tbsp lemon juice
1-2 tbsp mint leaves
1/8 cup dry roasted pistachios, shelled (about 20-22 pistachios)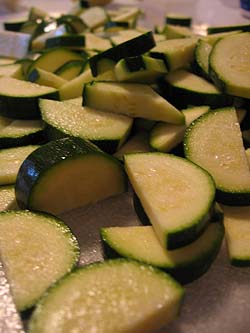 Add the olive oil to a soup pot over medium heat and toss in the onion, garlic and zucchini. Let cook about 10 minutes until soft and a little brown. Add the thyme and the broth and bring to a boil. Add the sweet potato and simmer about 15 more minutes or until the sweet potato is tender.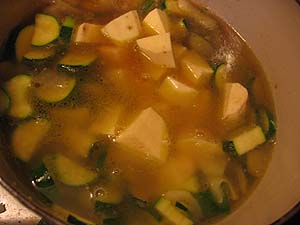 Blend in batches adding the mint and pistachios to one of the blending sessions. Add the mint to your taste. I probably added about one and a half atblespoons worth of leaves. The pistachios and mint both make for very pretty specks in the soup.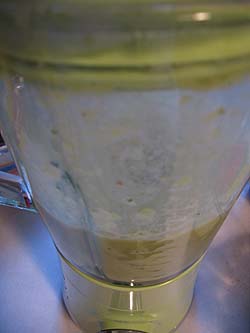 Return to the pot and stir in the lemon juice. Add salt and pepper to taste. Garnish with mint leaves and enjoy. I dare say this soup would even work chilled, in the Summer.
Next week: Another soup! Delicata squash, sweet potato and sage to be exact. Yep, it's the start of the Thanksgiving trial and error, test recipe cook off. Yipee!