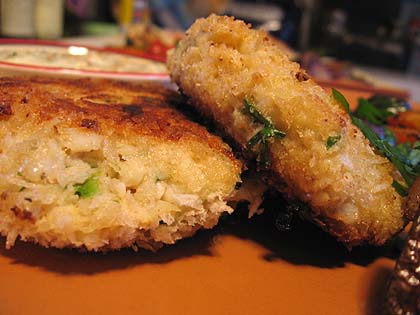 Do you like to live life a little dangerously? How about making your own mayonnaise/tartar sauce and buying $15 worth of halibut for a little kitchen experiment? Sound like fun? Well, it was — but only because these turned out deee-licious! It could have been deeee-sasterous! Okay, I am done now. I think I was channeling Rachael Ray for a minute there. Glad that is over.
Also, we hired a contractor (yay!). We are in the book and have a marmoleum installation date for 10/30. Thank you, Linoleum City and DJ's Floors. I would go into my rant here about how much disdain I have for another certain marmoleum seller in the area but I will wait until we get our $100 deposit back. The deposit they requested before we could even get an estimate. But, these halibut cakes were so good that I don't want to complain about ______'s ______ _________ in the same post as I talk about this meal.
So, let's get back to the awesomeness of these fish cakes and I will bitch about trying to get our floor done in another post. Oh, this is an Emeril recipe. He's a little gimmicky but he sure knows his food. I have replaced the "Essence" of Emeril (uhhh) with Old Bay, which, if AB likes it, it's good enough for me!
Another thing — this is one of those recipes where you make the last part listed (the tartar sauce) first. Crazy!
To Poach the fish:
1 pound Alaskan halibut fillets
1 lemon, quartered
1/4 tsp salt
4-5 pepercorns
pinch of red pepper flakes
handful of parsley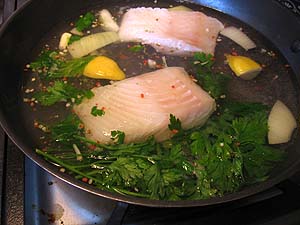 Start by poaching the fish. Add enough water to come up about two inches in a large skillet. Add the salt, parsley, 2 lemon quarters, and a pinch of red pepper flakes. Bring to a simmer and add the fish. Poach until done, about 10 minutes or until it flakes nicely with a fork. Remove from the pan, flake apart completely and set aside to cool.
Tasty Halibut Cakes:
1/2 cup unseasoned fine bread crumbs + 1/4 cup more (I used panko — Japanese breadcrumbs because I bought some at Trader Joe's a little while back and have been waiting to use them in something)
1/4 of a white onion
1 (healthy) tsp Old Bay Seasoning
1 tsp salt
1/4 tsp cayenne pepper
1/4 cup chopped green onions, green parts only
2 tsp chopped parsley
1 tsp chopped dill
2 tbsp mayonnaise (store bought or homemade)
1 large egg, beaten
1 tbsp unsalted butter
1 tbsp olive oil
Chopped parsley to garnish
In a large bowl, combine the halibut, 1/2 cup of the bread crumbs, Old Bay, salt, cayenne, green onions, parsley, dill, mayonnaise, and egg.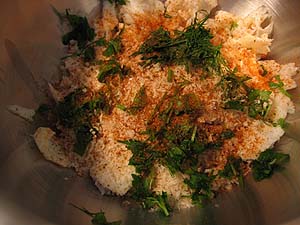 Fold together with the mixing implement of your choice, gently bringing the halibut and bread crumbs together. Shape the mixture into 4 cute little patties. Dredge each one lightly in the 1/4 cup of remaining bread crumbs (shaking off excess) and place on a plate. Refrigerate for 20 minutes.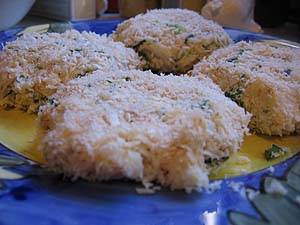 In a large skillet, melt the butter and olive oil over medium-low heat. Add the cakes and cook until golden, 3 to 5 minutes per side. Remove from the heat and serve with the remaining lemon wedges and your homemade tartar sauce.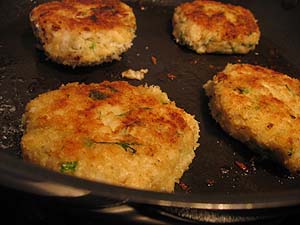 What homemade tartar sauce? Why this one — the one you made an hour ago.
Homemade Tartar Sauce:
So, this has raw egg in it. If you don't want to eat raw egg or you shouldn't eat raw egg, go buy some mayonnaise at the store and add the ingredients from the parsley down to what you buy. It'll still be good!
1 large egg
2 tbsp fresh lemon juice
1 1/2 teaspoons Dijon mustard
1 cup vegetable oil
1/2 teaspoon salt
1/8 teaspoon cayenne pepper
1 tbsp chopped fresh parsley leaves
2 tbsp chopped green onions, green parts only
1/4 cup drained sweet pickle relish
3 cloves garlic, minced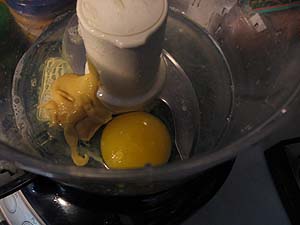 To make the mayonnaise (the first step towards tartar sauce), in a food processor or blender, combine the egg, lemon juice and Dijon mustard.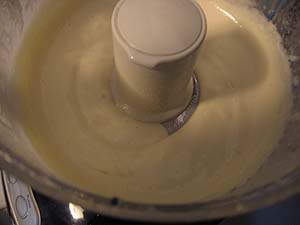 Process on high speed for 15 seconds. With the motor running, pour the oil through the feed tube in a slow, steady stream and process until emulsified. Add the salt and cayenne, and pulse to blend.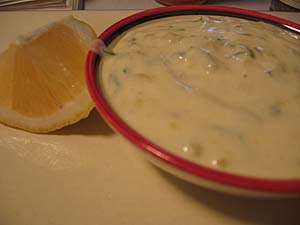 Mix in the remaining ingredients and refrigerate at least 1 hour before serving. But, eat this within 24 hours and discard any leftovers.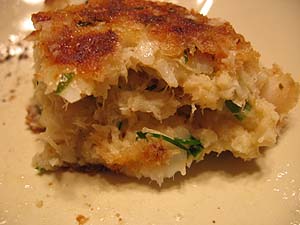 Mmmm…a little crunchy on the outside, soft and flaky on the inside.