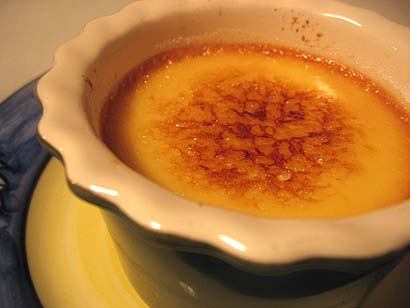 A Salute to Honey, Part II
My first attempt at creme brulee came from a trip to Bath and Body Works in Pioneer Place. Right. See, they carry products from the Savannah Bee Company and I found some orange foot scrub that I liked. I went to their Web site to learn more about the company and found a recipe section.
From there, I discovered a lavender and honey creme brulee recipe that I changed to Rosemary and Honey. This was mainly due to having a HUGE rosemary plant in the front yard that I like to find uses for and because, well, I like rosemary. Especially sneaky uses for it like drinks and desserts.
The flavor was mild and a little sweet. You could taste the rosemary just a little and it blended very well with the honey. I used vanilla sugar in my creme brulee (for the top too) but plain sugar will work fine.
Honey and Rosemary Creme Brulee
(This will make 4 creme brulees. For 2, just halve the ingredients — that's what I did).
7 egg yolks
2 oz. sugar
2 oz. honey
2 cups half and half (or, for a richer, devil may care version, 1 1/2 cups heavy cream . . . → Read More: Honey & Rosemary Creme Brulee