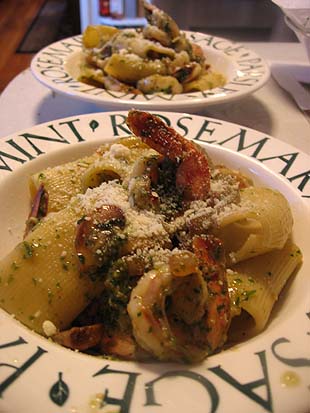 Is it Italian? Is it Asian? I dunno. It was good, though.
You could just as easily serve this over some basmati rice (and omit the cheese) but I really like the huge rigatoni we had with this and of course, the Parmesan. It was a fusion, as the kids call it.
Ginger-Garlic-Cilantro Shrimp
Originally, from Bon Appétit magazine, with 6 tbsp of butter instead of 3.5.
3.5 tbsp butter, room temperature
1/4 cup (packed) chopped fresh cilantro
3 garlic cloves, minced
2 tablespoons chopped fresh chives
2 teaspoons minced peeled fresh ginger
2 teaspoons toasted sesame oil
1 pound uncooked, peeled and deveined shrimp (large — 26-30 ct)
1 tbsp olive oil
1 small white onion, diced
1 orange or yellow bell pepper, cored and diced
Lime wedges
1 pound rigatoni or other large tube-like pasta of your liking
salt and pepper
Mix the first six ingredients in small bowl until well blended; alternatively, throw in the food processor and process until smooth. Season to taste with salt and pepper. Also, add a little lime juice from one of your lime wedges, just for fun. See, it's fun! Set aside.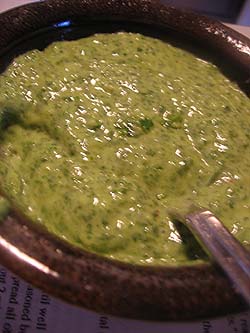 I used a food processor, so it's all blended-like.
Cook the pasta in salted boiling water. Meanwhile, heat the olive oil in a pan and saute the onion and bell pepper over medium heat until soft and they start to get a little color, 5-6 minutes. Turn up the heat a bit and add the shrimp and the herb butter and cook until the shrimp are about done and pink (3-4 minutes).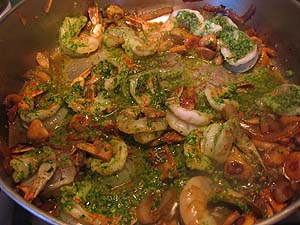 When the pasta is just barely al dente toss into the pan with the shrimp and veggies and let it all cook together for about a minute more. Serve into bowls and top with grated Parmesan cheese and some lime wedges.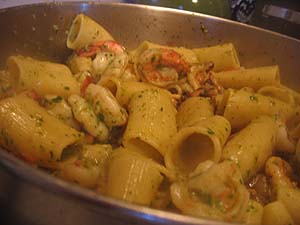 And now, as I am still catching up on my sleep from our trip and recovering from our garage sale this weekend…to bed!
*snore*