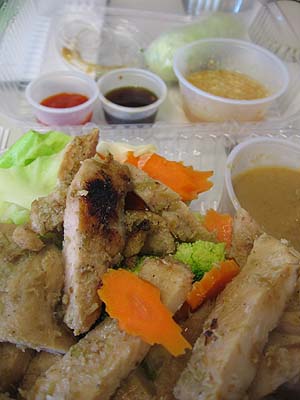 Lemongrass Chicken
Thai Basil
Corner of SW Oak & 2nd Ave
Portland, OR
503-330-1010
Well, as I've mentioned before, I have a new job downtown and one of the nice benefits of that is the lunch choices. My last position was up on Skyline and my lunch option was…Pizzicato. I mean, that was good, but that was it. That was the only choice nearby.
But now…the possibilities are endless! So, I thought I would start a little review of lunch carts in downtown Portland. The first is Thai Basil, which is right across the street from my office building. How convenient!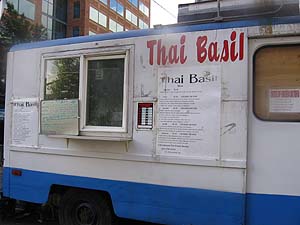 Thai Basil Menu
Chicken or Tofu Curry — a red curry, green curry and a yellow curry
Chicken or Tofu Stir Fries — ginger, garlic, veggie lovers, spicy basil and cashew versions
Chicken or Tofu Noodle Dishes — pad thai and two other varieties
Chicken or Tofu Fried Rices — comes in pineapple, spicy basil and with extra chilis
They also have specials. These include Lemongrass Chicken, Pumpkin Curry with Chicken or Tofu, Spicy Mango Curry and Stir Fried Asparagus with Chicken or Tofu.
All of these menu items come with a salad roll and dipping sauce, and a drink (Thai ice tea or water) for $5.00. Oh and a weird little wrapped candy that I'm not crazy about (tastes like lemony caramel).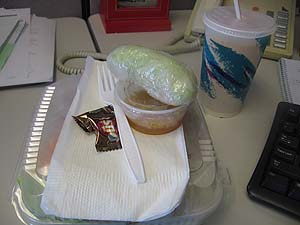 Yeah, all of this for $5.00!
I have had the pumpkin curry with chicken (excellent and spicy) and I just recently tried the lemongrass chicken, which is my favorite so far. The lemon grass gives it a subtle, Thai-ish flavor and it comes with a spicy peanut sauce, chili sauce and a heavy, molassesy soy sauce. So, so good. I was in dipping heaven. The vegetables with this dish include carrots, broccoli and bok choy (I think or maye some kind of cabbage).
Another nice thing about Thai Basil is that the portions are huge! I spend $5.00 and I have lunch that day, take my leftovers home add some coconut milk (in the case of my leftover pumpkin curry — that one I even had enough to split it with jwa and we both had some) and have a lunch to bring back to work a day or two later.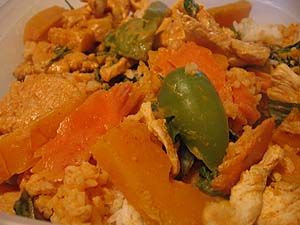 Chicken Pumpkin Curry
Thai Basil gets 3.3 bowls of rice out of 4.

Coming soon in the "What's For Lunch?" series: a selection of lunch carts on SW 5th Avenue. Also, here's a neat little lunch cart map of downtown Portland by Audrey.
***
Je Mange la Ville is going on vacation next week. I'll get my SHF post up next Friday but that's probably about it, as we'll be in Montana most of the week, celebrating my mom's birthday.