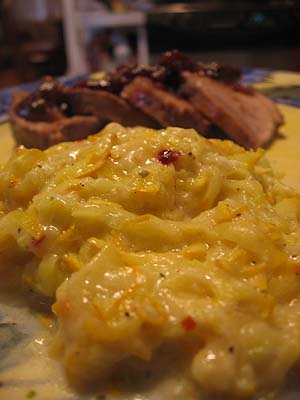 Recently, our neighbor asked if we wanted some of their zucchini — their garden was being over-run, apparently. Of course, I replied, for I am quite fond of zucchini. Besides, the mystery squash plant in our garden that I *thought* was a zucchini is actually, well, still a mystery squash.
So, I found myself with two very large (about 3/4 of a pound each) squash. I remember trying a zucchini casserole once, from The Big Book of Casseroles, which utilized grated zucchini, sour cream and Parmesan cheese. I remember that being the very first time jwa ate zucchini without complaint. I looked again at the two very big zucchinis on the counter — I would definitely need help eating them.
Yep, this was a job for The Big Book of Casseroles, all right.
Grated Zucchini Casserole
2 big zucchinis, yellow or green, totaling about 1 1/2 – 1 3/4 pounds
1/2 tbsp butter
1/2 cup sour cream (light or full fat — not fat free)
1/2 tsp pepper
1/2 tsp salt
2 cloves garlic, minced
1/4 cup grated Parmesan cheese
sprinkle of red pepper flakes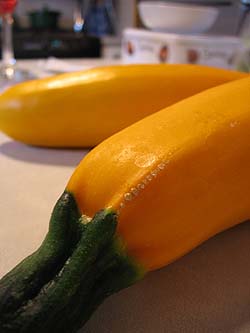 Preheat oven to 375 degrees. Grate your zucchinis. I usually do this over 3-4 paper towels, that way I can bundle . . . → Read More: Attack of the Killer Zucchini Casserole