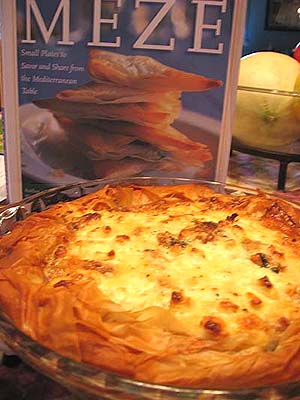 If I don't say so myself, this was a good use of some chicken, feta, mint and phyllo dough. Now that I am over my apprehension of working with phyllo, it was even relatively easy. My one nitpick though, is that the chicken seemed to get a little dry. The flavor was still excellent, though, so it wasn't the end of the world by any means. Next time, I believe I will mix a little of the egg/feta mixture into the chicken to keep it a bit more moist.
As the title picture shows, this recipe is from Meze: Small Plates to Savor and Share from the Mediterranean Table by Diane Kochilas. As I am prone to do, I added an extra clove of garlic, some mushrooms and a little fresh oregano. Oh and I also added a little lemon zest.
Chicken Pie with Mint, Feta and Eggs
3 tbsp unsalted butter
1 white onions, finely chopped
6-8 button mushrooms, sliced
2 cloves garlic, minced
2 cups shredded, cooked chicken
1/3 cup chopped fresh mint leaves
1 tsp lemon zest (about 1/2 a lemon)
1 tsp chopped fresh oregano leaves
salt & pepper to taste
2 tbsp extra virgin olive oil
1/2 pound phyllo, at room temperature
2 large eggs
3 tbsp milk
1 cup crumbled feta
Heat the butter over medium heat and cook the onions, mushrooms and garlic until lightly golden, about 8 minutes. In a large bowl, combine the chicken, onion-garlic mixture, mint, oregano and lemon zest.Season with salt and pepper and add the olive oil.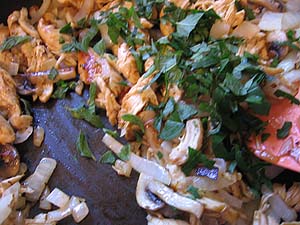 Preheat the oven to 350 degrees. Lightly oil a 10-inch pie pan. I used a plain glass pie pan. Place 1 sheet of the phyllo vertically across the pan. Brush with some olive oil and place another sheet overlapping a bit and brush that sheet with the olive oil too. Keep sheets that you are not using moist, under a damp towel.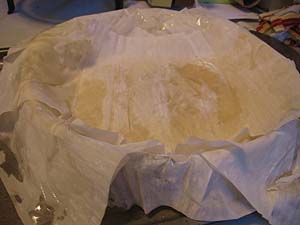 Keep going until you go through the sheets, brushing each with a little oil as you work. I used few less than the whole 1/2 a pound — go ahead and use as much as you want but make sure you have the whole pan covered and layered nicely with overhanging phyllo available.
Beat the eggs, milk, salt and pepper until frothy and add the feta. Mix to combine. Add a little of the egg mixture to the chicken — a couple of tablespoons worth. Spread the filling evenly into the phyllo-lined shell. Roll the extra up and around the top of the pie. It won't cover the whole top, just form a ring around the pie.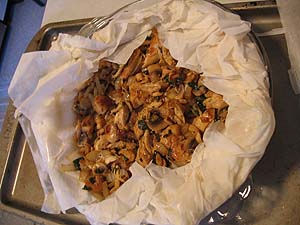 Pour the remaining egg mixture over the pie, tilting it so that it evenly covers it all.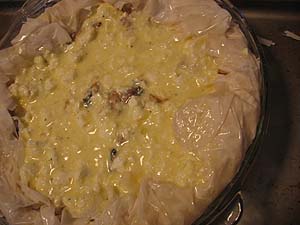 Bake for 40-50 minutes until the filling is set and the phyllo is crisp and golden.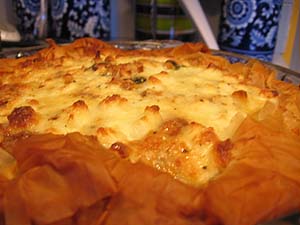 Remove from the oven and cool slightly. Cut and serve with a green salad.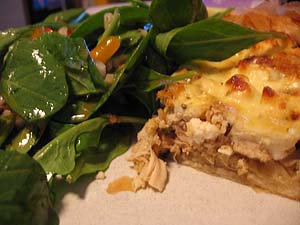 Yep, there's a new blog look today. I wanted a more Summery design and started playing around with new pictures and backgrounds Sunday afternoon. When I did this one, I also created two other themes so there should be another new look fairly soon.
Coming up, food-wise (maybe even all this week): tomato-basil salad, spinach & arugula fritters, green tea salmon and my Weekend Cookbook Challenge #7.