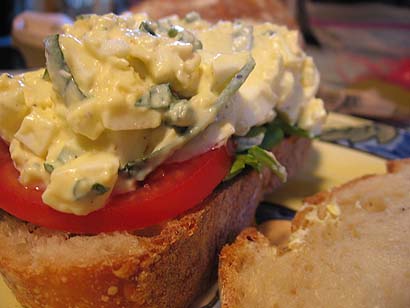 When it's hot out, a cool dinner is the way to go. I discovered this combination a couple of years ago and it has become a meal we have a few times throughout the summer. Plus, jwa really likes egg salad and it's occasionally nice to make him happy.
The basil in the egg salad gives it a fresh, interesting taste and works really well with the olives in the bread. This is especially good when tomatoes are in season and plentiful from the garden.
You will need:
4 eggs
a handful of fresh basil leaves, chopped
1/4 – 1/3 cup mayonnaise
1 tbsp Dijon mustard
1 tbsp grated sweet onion
salt & pepper
lettuce of your choice
1 tomato, sliced
a loaf of kalamata olive bread
Hard boiling eggs
I've never really had a problem with green yolks or runny egg parts. Generally I bring a lidded pot of lightly salted water to a boil. Then add the eggs. Turn off the heat and put the lid back on. Wait 18 -20 minutes and that's it. It always works perfect for me.
Run eggs under cold water until they are cool enough to handle. Peel and chop and add to a bowl. Mix in the mayo, onion, basil and mustard. Add salt and pepper to taste and set aside.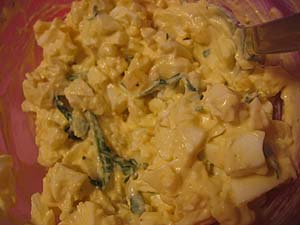 Slice four pieces off the bread and start piling it on. I start with the lettuce and then add the tomato, topping that with the egg salad. Since egg salad can be messy, I try not to overload the sandwich with extras. Although, if you like onions a lot, a few rings of red onion can be good here.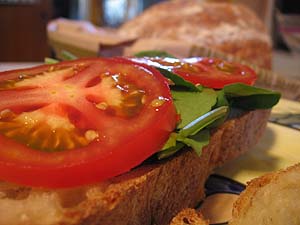 Pop the other piece of bread on top and you're in business. I typically leave egg salad sandwiches whole, instead of slicing into halves, because of the mess that entails. I like to try and keep the egg salad within the confines of the bread for as long as possible. Serve with some potato chips (Kettle Chips Green Onion and Yogurt are awesome) and kick back with your beverage of choice.