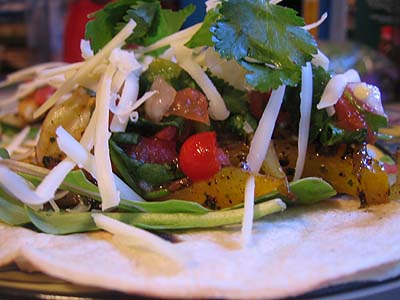 My love of tacos is fierce. They can be cool (lettuce, tomatoes, cheese) they can be hot (filling of your choice) but they are always perfect. They are also super easy to prepare and really, your filling choices are unlimited. Take these, for example. After rummaging around the freezer I found some frozen, raw shrimp I wanted to use. Excellent — shrimp tacos. I made a quick marinade, heated up some tortillas, shredded some cheese and lettuce and jwa and I had a feast!
Chipotle-Orange Shrimp Tacos
12 (26/30 count) shrimp (fresh is great, frozen will work)
1 tsp chipotle in adobo sauce
juice of 1 orange
1/4 cup cilantro
1 small white onion
1/4 cup canola oil
salt
8 corn tortillas, heated in a dry pan until they begin to blister, then stored in aluminum foil until needed
1 orange or yellow bell pepper, seeded and sliced into strips
arugula or spinach or some other greens
1/2 – 3/4 cup grated cheddar cheese
10 cherry tomatoes, halved
salsa of your choice
Optional: sour cream or yogurt, 2-3 green onions (diced), extra cilantro, olives — really anything
Defrost the shrimp in cold water if using frozen. devein and clean if needed. Make marinade. To do this, add the chipotle, orange juice, cilantro, 1/2 the onion (diced roughly), a pinch of salt and oil to a food processor or blender. If using a blender, do it in steps. For instance, blend the chipotle and OJ. Then add another item and blend, and so forth.
Pour half the mixture over the shrimp and refrigerate for about 1/2 hour. Meanwhile, start prepping the lettuce, tomatoes and cheese — shredding, dicing and grating, to be specific. Toss the yellow pepper and the other half of the onion (sliced) with the remaining chipolte-orange sauce and add a little salt. Saute over medium heat (a non-stick pan is best — if not, add a little more oil) until soft and a little browned. Set aside.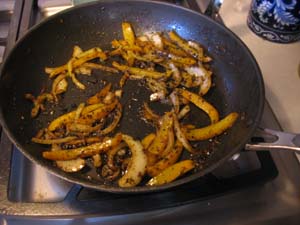 In the same pan cook the shrimp (salting a little before placing in the pan), a couple of minutes on each side, until they are pink and cooked through. Remove from heat and place in a bowl. Cover with foil until you are ready for them. Go ahead. They'll wait.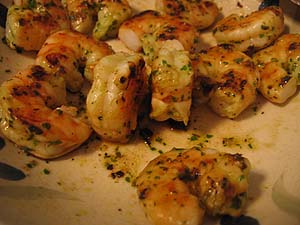 Assembly
Double up two tortillas and add some peppers, then 3 shrimp, lettuce, tomatoes, cheese, salsa and whatever other toppings you are using. Mmmm…so, so good. Add some chips and salsa and this is an excellent meal. You should also add a margarita, if desired. We made some mango margaritas and they went very awesomely.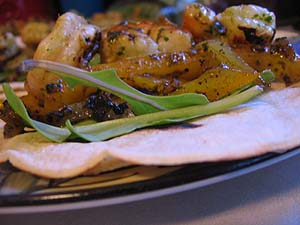 ***
In other news, is it weird to start planning the Thanksgiving menu now? I think I've got everything decided on. I think I am a dork. I'll try to wait until September to actually post about the menu…