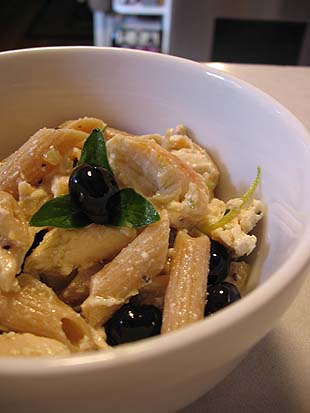 This recipe was in the most recent Eating Well and it seemed like it would be one of those dishes that was either surprisingly good or uh, not. It was the first thing. In fact, it was very, very good. The lime and the feta is some miracle-like combination and the thyme went wonderfully with the blueberries! There was absolutely nothing I didn't like about this salad and I can see making it very often this Summer.
I'd also like to contribute this recipe to the Summer Salad event over at My Life as a Reluctant Housewife. A summer salad theme is a great idea — we could all use more hot weather meal ideas! And remember, blueberries are very good for you. That's why I used the remainder of my pint of blueberries for a batch of Blueberry-Cinnamon muffins — coming later in the week. But for now —
What to do with a pint of blueberries, Part I: Blueberry Pasta Salad
1 lb boneless, skinless chicken breast, trimmed of fat (about 2-3 breasts)
8 ounces whole-wheat fusilli or radiatore (I used wheat penne)
3 tablespoons extra-virgin olive oil
1 large shallot, thinly sliced, or 1/2 a white onion, diced
1/3 cup chicken broth
1/3 cup crumbled feta cheese
Juice form 1 lime juice (3 tbsp)
1 cup fresh blueberries
1 tbsp chopped fresh thyme
Lime zest from 1 lime (about a teaspoon)
1/4 teaspoon salt
Freshly ground pepper
Optional: fresh oregano leaves (or more thyme leaves) for garnish oh, alright, and some Parmesan cheese
The original recipe called for poaching the chicken, which would work fine, but why poach when you can grill? Grill marks are our friends. I drizzled a little olive oil on the chicken, salted it and grilled it for about 8-10 minutes on each side (165 degrees) and the let it sit for a couple of minutes, then shredded it into bite-sized pieces. Whatever you do, you should wind up with cooked, bit-sized chicken. When you have that, set it aside and move along.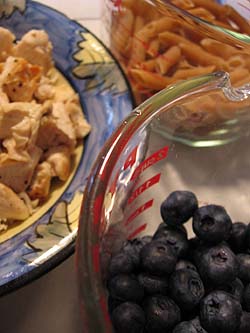 Next, cook your pasta until done, about 9 minutes or according to package directions. While pasta is cooking, place the oil and shallot/onion in a small pan and cook over medium-low heat, stirring occasionally, until softened and just beginning to brown, 2 to 5 minutes. Add the broth, feta and lime juice and cook, stirring occasionally, until the feta begins to melt, 1 to 2 minutes. When the pasta is ready, drain and place in a large bowl.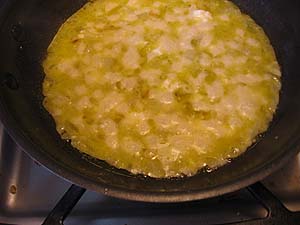 Add the chicken to the bowl with the pasta.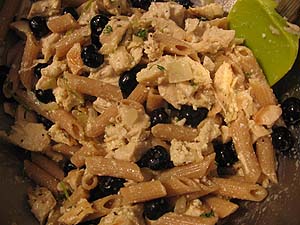 Add the dressing, blueberries, thyme, lime zest, salt and pepper. Taste and adjust any seasonings. Toss until combined and serve at room temperature or chilled.