Ask for cakes…and you get cakes
So, I am very pleased with this little experiment. I met a fellow Portland blogger, got an entry all the way from Switzerland, a turtle cheesecake from Texas and jwa made me a pineapple upside down cake. I was expecting to not get any cakes as it's hot this time of year and I only mentioned this cakefest on my blog. So, this was a pleasant surprise.
I was afraid I would have to assume alternate identities and bake things all weekend and sign up for a slew of new blog accounts and send myself fake entries. Whew — this was so much easier! Thank you to Archanna, Pushpa, Amy and jwa. And also, thanks again to everyone who has left comments over the last couple of days about Je Mange la Ville's one year anniversary!
Now, let's look at some lovely and festive baked goods, shall we?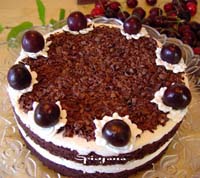 I. Archanna at spicyana made a beautiful Black Forest Cake with Oregon Bing cherries and homemade cherry liqueur. If this cake were sitting on the counter at my house, I almost think it would seem too gorgeous to eat…almost.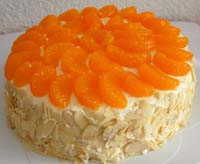 II. Pushpa at PuSiVa'S CuLiNarY StUdiO sent . . . → Read More: Cake-athon 2006 Round Up