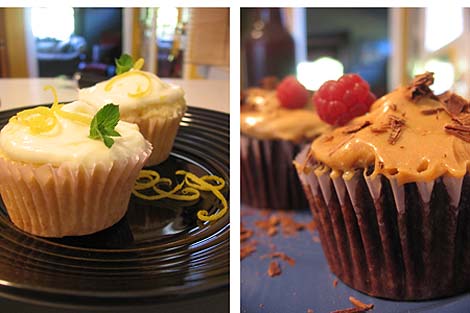 First off, Happy Bastille Day. Second — I can't believe that started this blog one year ago today. Let's see, what has changed in the last year — I have a new job and uh, I guess I'm a year older but that's not really important. What is important is– I've had this blog for a whole year! To celebrate the one year anniversary of Je Mange la Ville, I suggested a cake-athon. While deciding what kind of cupcakes to make, I found two recipes that intrigued me — so I made both.
Lemon cupcakes with a lemon and cream cheese frosting and chocolate stout cupcakes with an espresso cream cheese frosting. Very different flavors but both cupcakes were really good. Seriously, the best cupcakes I've ever made. And, the nice thing about making two kinds of cupcakes is that I made a half recipe of each and then made one full batch of cream cheese frosting, that I divided to make frosting for both types of cupcakes. See, math can be fun.
The lemon cupcakes started with a recipe for lemon cake. I had made it a couple of years ago for one of jwa's birthdays. We both liked it a lot and I thought it would make great cupcakes. I was right.
Lemon Cupcakes
(Full recipe — this will make about 20-24 cupcakes, depending on your muffin tin size and how full you fill them. This recipe will also make a cake. If going that route, divide among 2 cake pans and bake for about 30-40 minutes, until a toothpick comes out clean.)
2 1/2 cups cake flour
2 tsp baking powder
1/2 tsp baking soda
1/4 tsp salt
1 cup (2 sticks) unsalted butter, slightly softened
1 1/2 cups granulated sugar
2 large whole eggs, at room temperature
3 large egg yolks, at room temperature
2 tsp vanilla extract
1 tsp grated lemon zest
1/4 cup fresh lemon juice
1/2 cup whole milk
extra lemon zest and mint leaves for garnish
Preheat the oven to 350 degrees. Line two muffin tins (12 muffins each) with paper muffin cups. Next, in a medium bowl, whisk together the flour, baking powder, baking soda, and salt. Set aside. In an electric stand mixer, using the paddle attachment or beaters, beat the butter on medium speed for about 30 seconds, or until creamy. Gradually add the sugar and increase the speed to medium-high, and continue to beat until the mixture is light, about 3 minutes. Scrape down the sides of the bowl. Then, add the whole eggs and egg yolks, one at a time, beating well after each addition. Add the vanilla and lemon zest. Reduce the speed to low and gradually beat in the lemon juice.
Beat in the dry ingredients, alternating with the milk in. Scrape down the sides of the bowl and beat for another 10 seconds. Scrape the batter into the prepared muffin tins.
Bake for 22-30 minutes, until a toothpick comes out clean. Let cool on a wire rack. When they are cool enough to eat, you will have a very lemony, rich, delicate tasting cupcake. And with the tangy cream cheese frosting? Wow, they are amazing.
Now, open a bottle of stout.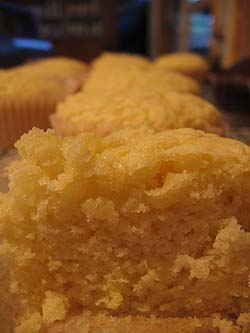 These next cupcakes are very rich and very moist. They also have a nice stout taste to them. So, uh, I guess if you don't like beer, they are probably not the cupcakes for you. If you do like beer — you will love these. They're originally from Dave Lieberman (on Food Network) and jwa and I both liked them quite a bit. A fresh raspberry or two on top looks both very visually appealing and tastes great with the chocolatey, coffee taste of the frosted cupcakes.
Chocolate Stout Cupcakes
(Again, this is the full recipe — will make 24 cupcakes)
3/4 cup unsweetened cocoa, plus more for dusting finished cupcakes
2 cups sugar
2 cups all-purpose flour
1 tsp baking soda
Pinch fine salt
1 bottle stout beer
1 stick butter, melted
1 tbsp vanilla extract
3 large eggs
3/4 cup sour cream
raspberries for garnish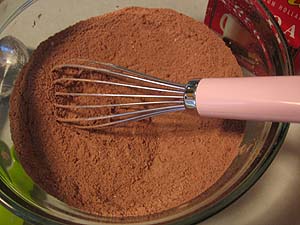 Preheat oven to 350 degrees. In a large mixing bowl, whisk together the cocoa, sugar, flour, baking soda, and salt. In another medium mixing bowl, combine the stout, melted butter, and vanilla. Beat in eggs, one at time. Mix in sour cream until thoroughly combined and smooth. Gradually mix the dry ingredients into the wet mixture.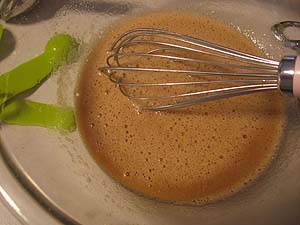 Divide the batter equally between muffin tins, filling each 3/4 full.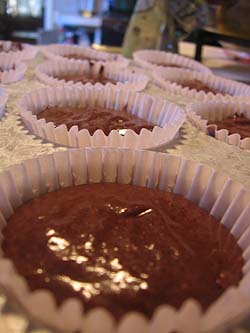 Bake for about 12 minutes and then rotate the pans. Bake another 12 to 13 minutes until risen, nicely domed, and set in the middle but still soft and tender. Cool before turning out.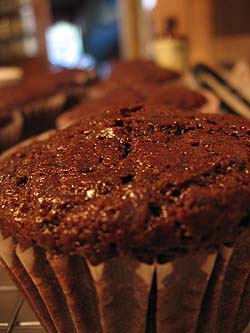 When the cupcakes are cool, it's time to make the frosting.
Cream Cheese Frosting
8 oz cream cheese, room temperature
1 1/2 cups powdered sugar
zest of 1 lemon (for lemon frosting)
1 tsp instant espresso powder (for espresso frosting)
1/2 tsp vanilla (for espresso frosting)
Beat the cream cheese with an electric mixture until lighter and fluffy. Gradually add the sugar until it's well incorporated and the mixture is still fairly fluffy. Divide frosting into two bowls (I made a bit more of the espresso frosting, as I had 12 chocolate cupcakes and only 9 lemon ones).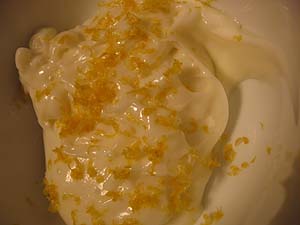 To one bowl add the lemon zest and to the other, add the espresso and the vanilla. Mix each well to combine.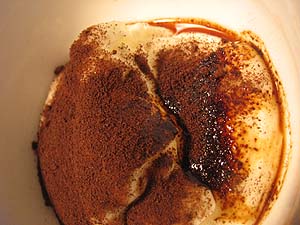 Now, it's time to frost. Use a knife and spread the lemon frosting on the lemon cupcakes and the espresso frosting on the chocolate ones.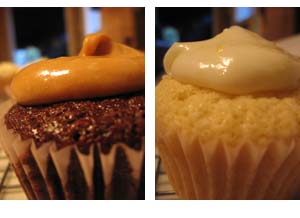 When you are done, they will almost be too pretty to eat.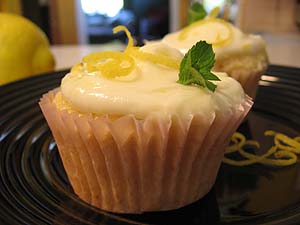 But, you will manage. If it is a warm day, you might want to pop them in the refrigerator for the frosting to firm up a bit. I've found that a good way to do this is to place them all in a deep dish lasagna pan and then cover that wit plastic wrap. That way, the wrap doesn't mess up the frosting, as the pan sides are taller than the cupcakes.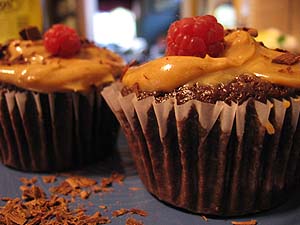 So, there are my amazing, celebratory, cake-athon cupcakes. Please send me your cake-athon snacks, if you feel inspired to whip up a cake or some other type of baked good this weekend! I know, I know, it's hot — I totally understand if it's too hot for cake baking. Also, feel free to send a previous cake post. I'd say anything you've posted in the last two months or so would work too. I'm not picky!
jwa has promised to make me a pineapple upside down cake this weekend, so that is nice and I've already gotten two other cake entries so far! I will recap the cake posts that I get on Monday.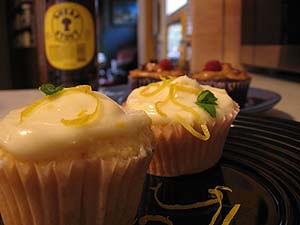 Thank you all for reading my blog this past year and hopefully getting something out of it. For me, it's been really fun to write and photograph my kitchen exploits. I hope to try more recipes in the coming year and document them all here!
Monday: Cake-athon round-up.