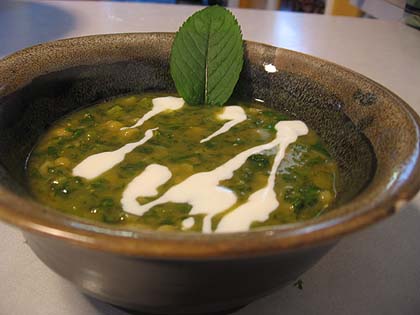 We just went through an ugly, ugly heat wave here in Portland. The past two days have been in the hundreds and just brutal. I know, anyone in Phoenix, Arizona or other typically-hot locales are laughing at me. But again, this is Portland and 100+ is just wrong.
Today, marks a return to our sensible, jacket-in-the-morning, highs-in-the-80's, Summer weather. Hooray! To celebrate the return of the quilt to the bed and a coat in the AM, I have decided to post about this awesome split pea soup I made last week.
Now, this is not a typical, heavy, pork-laden split pea soup, for that would be silly in June, now wouldn't it? Oh no. This one is light and minty and packs a bit of a surprise in the form of pomegranate syrup.
It's from the Soup Peddler book and the recipe has its origins in the Middle East — Iraq specifically. I could also easily see serving this soup cold or at room temperature. Give it a try! I bet it's good that way.
The Soup Peddler's Shorbat Rumman (Split Pea Soup)
1 lb dried yellow or green split peas (or a combination works)
2 bunches scallions, chopped (white & green parts) or 1/2 of a finely chopped red onion
1 lb spinach, chopped
2 bunches parsley, chopped
2 bunches cilantro, chopped
1 bunch mint, chopped
1/4 cup fresh squeezed lime juice
2 tbsp pomegranate syrup
Salt
Garnish: Plain, low-fat yogurt
Start by cooking the split peas in six or so cups of boiling water until soft, 30-45 minutes. Add more water if necessary to keep a nice soup consistency.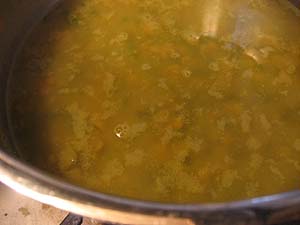 Now, I used my food processor for all the chopping. Just add the spinach, cilantro, parsley and mint and pulse until finely chopped. Oh and I defined "bunch" as "handful".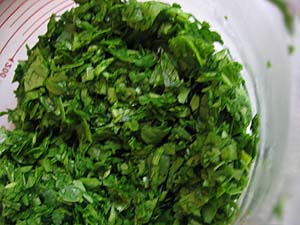 Add the herbs, spinach and onions to the soup and simmer five more minutes.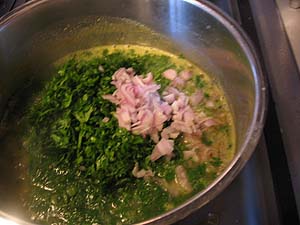 Remove from heat and add the lime juice and pomegranate syrup. I found pomegranate glaze at Trader Joes and figured it was close enough. It was, as it tasted very good in the soup. Another option would be to get some pomegranate juice and simmer it down to a syrupy consistency.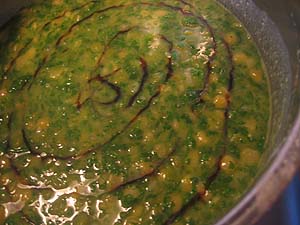 Garnish with more mint leaves and plain yogurt.
***
In other news, Je Mange la Ville is turning 1 year old on July 14, 2006! Wow! I am trying to come up with a special event for that day or some way to mark the occasion accordingly. Right now my big idea is the Amazing & Celebratory Cake-athon-2006. Make a cake. Make some cupcakes. Buy a cake. Buy some cup cakes — you get the idea. Whichever you choose, take a picture and post it on your blog (along with the recipe if there is one) around July 14 and I'll link to it that week and recap all the cake-like items. Sound fun?