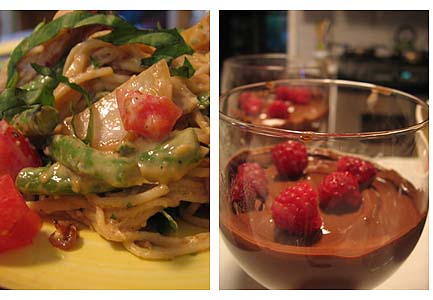 This was a great theme (imho) chosen by Ono Kine Grindz, as I currently like to use tofu in things like sauces and soups. It's just so easy to use in place of cream or other high-fat, unhealthy creamifyers. Instead of making one dish (a sweet one) for both IMBB and SHF, I chose to make two separate tofu dishes. Kind os a two-for-one theme deal. Besides, I used 1/4 of a block of tofu for the peanut sauce and used the 3/4 remaining for the mousse. Perfect!
The IMBB dish, Honey-Garlic Peanut Noodles with Vegetables and Chicken, came from the cookbook, Tofu Mania. Now, I know I've made two peanut noodles dishes before but honestly, I think this one is my favorite. How about that?
The recipe in the book is just for the sauce, so I will give that and then just list what else I did. Because really? You could use this sauce for anything. It's delicious! What I ended up doing was to serve the peanut sauce with grilled chicken, vegetables and soba noodles.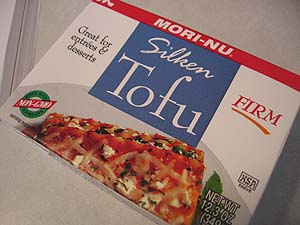 I:
IMBB27: Honey-Garlic Peanut Noodles with Vegetables and Chicken
Sauce:
1/4 cup firm tofu (I pretty much sliced off about a 1/4 of a block of tofu and called it 1/4 cup).
juice of 1 orange
juice of 1 lemon
1/4 cup peanut butter
2 tbsp honey
3 cloves garlic
1/4 cup fresh basil
1 tbsp ginger, chopped
2-4 tbsp soy sauce
red pepper flakes to taste
Other:
Cooked chicken
Soba noodles
Vegetables of your choice (I used bell peppers, onions and green beans)
More basil for garmish, as well as some chopped green onions.
Add the tofu and juices to a food processor. Puree until smooth. Next add the peanut butter, basil, honey, garlic, ginger, pepper flakes and soy sauce. Process a bit more, until creamy annd smooth. Taste and adjust any seasonings.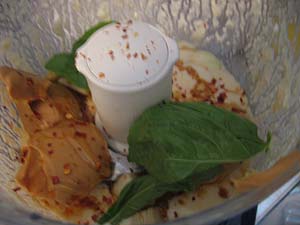 The sauce can be set aside until you are ready to use it or refrigerated or up to 3 days. Just reheat gently, in a pan, over low heat. I let the hot cooked soba noodles warm my sauce up.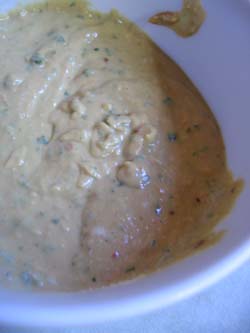 I served my honey-garlic sauce with soba noodles, grilled chicken and sauteed bell pepper, onion and green beans.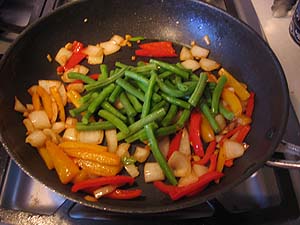 Toss everything together and serve with more fresh basil leaves.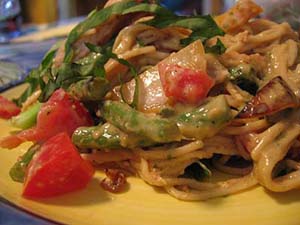 II.
The SHF dish came from the Scharffen Berger Web site. It's a tofu chocolate mousse and it turned out really good too — very rich, chocolatey and creamy! I've always heard that using tofu in chocolate mousse works well — I was anxious to see this for myself. I am now a convert!
SHF20: Tofu Chocolate Mousse
(I made a half recipe by using 3/4 of a block of tofu and a little bit less than half the other ingredients. It made two generous-sized servings.)
from Scharffen Berger
2 (12.3-ounce) packages extra firm silken tofu
4 ounces Bittersweet or Semisweet chocolate chips (I used Ghirardelli 60% Cocoa Bittersweet Chocolate chips, sorry sb…)
1/2 cup Unsweetened Cocoa Powder
3 tbsp instant espresso or coffee powder
3/4 cup good-quality maple syrup
1 tsp vanilla
Optional: 1 to 2 tablespoons coffee-flavored or orange-flavored liqueur
Garnish: Fresh raspberries or strawberries
Drain the tofu in a colander for about 10 minutes. Meanwhile, melt the chocolate in a double boiler or use your microwave — just give it 30 seconds at a time and stir after each turn in the microwave. When it hot and almost melted all the way, stir until the last remaining pieces melt.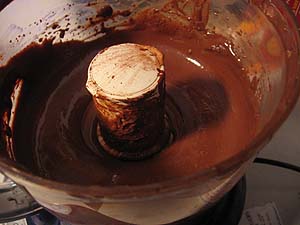 Place the tofu in a food processor or blender and puree until creamy. Scrape down the bowl as needed. Add the cocoa and espresso powder and process until well blended. Next comes the syrup, vanilla, melted chocolate, and liqueur. Puree it all until smooth.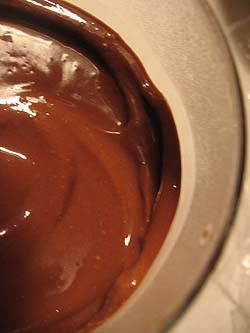 Transfer to individual dishes, cover and chill several hours or overnight. Serve with the fruit.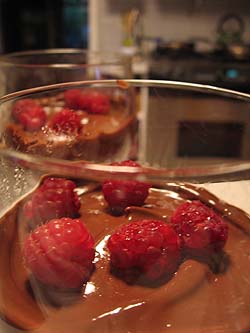 III.
Thanks again to Ono Kine Grindz for hosting this duel IMBB/SHF event!