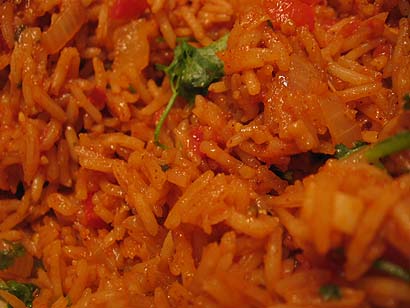 Spanish rice goes great with soy tacos, along with some refried beans. It's just like eating at a Mexican restaurant. When I made this recipe, I didn't add the Ancho chile powder until I added the broth but I think it would work very well to just add the chile powder with the onions and garlic. This recipe is based off of one I found on the Food Network site but I changed a lot of things so not really.
To make a whole meal, add black beans and kidney beans and there you go! Garnishes can include diced red onion, cilantro, green onions and fresh tomatoes. Oh okay fine, perhaps a little cheese…
Vegetarian Week: Spanish Rice (& Beans)
1 tbsp solid vegetable shortening
1 1/2 cups long grain rice
2 tbsp ancho chile powder
1 tsp dried cilantro
1/2 tsp dried Mexican Oregano
1/2 large onion, finely chopped
3 cloves garlic, finely chopped
1/2 a 15 oz can crushed tomatoes & juice
30 oz vegetable or chicken broth
Optional: 2 cans drained and rinsed kidney beans or black beans (or one of each)
Combine chicken broth and canned tomatoes and set aside until needed. Heat shortening in a large pot on medium-high. Add rice, stirring constantly.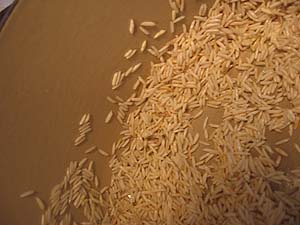 When rice is golden brown, immediately add the onion, garlic and chili powder. Stir so it is evenly mixed. I don't think I let mine brown quite enough, next time, I will not be quite so timid.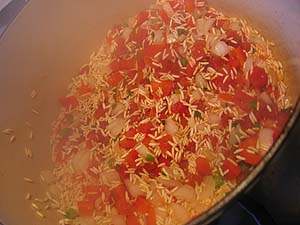 Quickly add the chicken broth (or vegetable broth!!! and tomatoes. Add the cilantro and the oregano.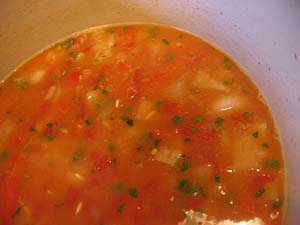 Bring to a full boil, cover and reduce heat to medium-low. Let simmer until rice is tender and most of broth has evaporated, about 20 to 30 minutes. (The remaining broth can be added if rice is still a little hard). If adding beans, add them to the rice now and stir to incorporate. Give the beans about 3-4 minutes to heat up with the rice. Taste and add salt and pepper as desired.
Another idea if making a meal of this dish, is to add some baby spinach (LMSI — last-minute spinach incorporation) to the rice and beans, then let it wilt down for a minute or two. Finally, remove rice from heat and leave covered until ready to serve.