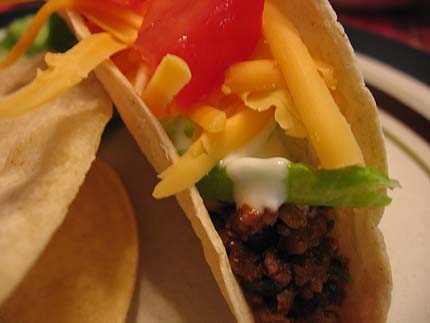 Tacos are the perfect year-round food. In hot weather, you have the cool cheddar cheese, tomatoes, lettuce and sour cream or yogurt and in the Winter, there's the sides (rice and beans) as well as the chicken, beef, pork, veggie or soy filling to warm you up.
As announced in the title, this week is all about vegetarian meals, a theme that is very near and dear to me as I was a vegetarian for about six years. This meal is of the faux-meat variety. Soy crumbles replace the ground beef in the sort of All-American, pan-taco filling of my youth — hamburger, onion, bell pepper and seasoning mix. But this one is a little different as I stared and my Penzey's-stocked spice rack and pulled jars down with reckless, carefree abandon. Then I reached for the instant espresso. Mahahahahaha!
Today's post is the tacos, taco shell making and a lime-tequila-tomatillo salsa. Tomorrow is Spanish Rice (Arroz). When will the fun end?
Chile-Espresso Soy Tacos
1 tbsp vegetable oil
1 Pkg soy meat crumbles
1 small onion, diced
1 small bell pepper, diced
1 jalapeno, seeds and ribs removed, diced
1/4 cup water
Seasoning:
3 tbsp chile powder
2 tbsp cumin seeds
1 tsp instant espresso
1/2 tsp dried cilantro
1/4 tsp dried orange peel
1/4 tsp dried jalapeno
Accouterments:
Romaine or Iceberg lettuce, sliced
tomatoes, diced
cheddar cheese, grated
Plain, low or nonfat yogurt
cilantro, chopped
Salsa
Taco shells
Combine all seasoning ingredients into a container with a lid. Stir leftovers in a cool, dry place.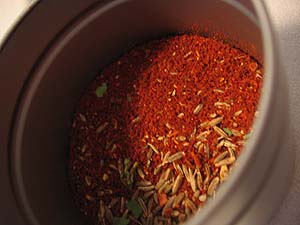 Start by heating about 3 tablespoons of your seasoning mix up in a dry pan over medium heat for a minute or so, until you can smell all of the spices.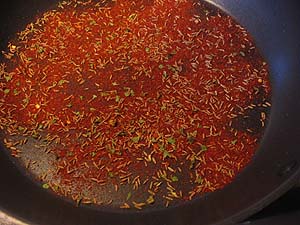 Add the oil and mix until you have a thick paste, then add the onion, bell pepper and jalapeno and saute until soft, 3-4 minutes. Add the soy crumbles and break those up with a wooden spoon, until it all resembles dry, seasoned ground beef. Add the water and simmer briefly, until liquid is mostly absorbed and it looks and smells like something you really want to put in a taco shell. Add a little fresh cilantro and serve in a bowl, ready for taco assembly.
Sometimes I add a little baby spinach to the taco filling, while it is still in the pan, and let it wilt down. I didn't this time, as jwa usually complains about my tendency to perform last-minute spinach inclusion on meals.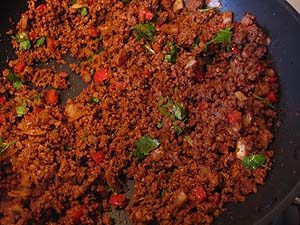 Now, the idea here is to create a (huge) taco bar. So, have all of the toppings ready and positioned in bowls. This is the cheese, tomato, lettuce, chopped cilantro, salsa and yogurt or sour cream. Chopped black olives, as well as sliced jalapenos are also nice. Oh and have a big bowl of chips, too. If you do this right, you will barely have room at you table to sit and eat your meal.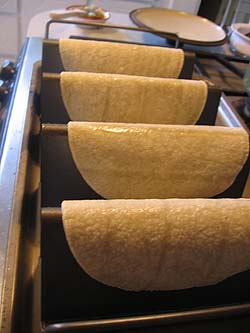 Taco Shells
This is a fun little contraption that I found at cooking.com a couple of years ago. I just brush a little oil on the taco-making pan, pop the tortillas in the microwave for 30 seconds to make them pliable and the put them on the molds. Brush the tortillas with a little more oil and bake them in the oven for 10-15 minutes and we have taco shells!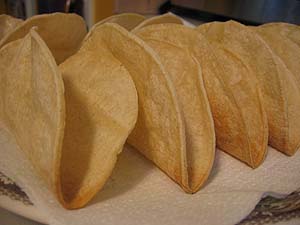 Rounding out this taco feast is a tomatillo salsa from the El Paso Chile Company Margarita Cookbook. Yes, it has tequila in it. You need something in the meal to balance out the coffee, no?
Lime-Tequila-Tomatillo Salsa
6 tomatillos, husked
1 jalapeno, roasted, peeled and chopped
1 tbsp tequila
1 clove garlic
1/4 tsp salt
1/3 cup white onion, chopped
1 handful cilantro
juice of 1 lime
In a saucepan, cover the tomatillos with cold water and bring to a boil over medium heat. Simmer until tender, about 10 minutes. Drain, rinse under cold water and cool. Core the tomatillos when they are cool enough to handle, being careful to retain juices.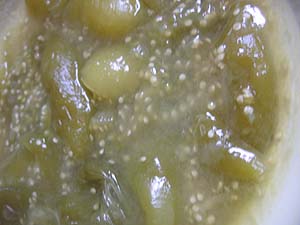 Add the tomatillos and any liquid to a food processor. Add the jalapeno, tequila, garlic, onion, cilantro and salt. Process until smooth.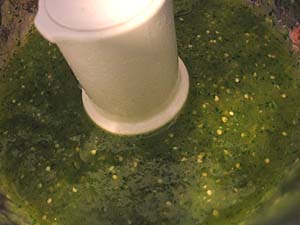 Enjoy the salsa with chips and all the taco fixin's, including refried beans and Spanish rice.