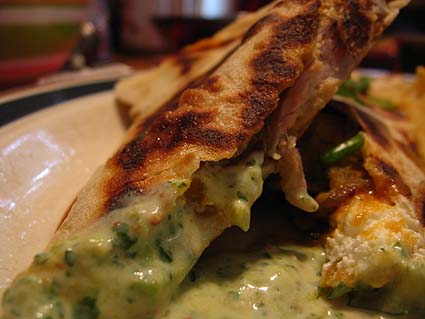 Here we are at the last post of June. What better way to end the month but with a wonderful cilantro and jalapeno rubbed pork tenderloin, sweet potato and goat cheese quesadilla? You see, we were in a pork rut. Pork loin, pork chops, pork tenderloin — I wanted something different to do with pork.
This original recipe is from Emeril and while reading through it, it really appealed to me. It spoke to me, if you will. And the flavors? Wow. They were excellent. The pork and the sweet potato tasted so good together with the goat cheese and all of the accompaniments and what-nots. I also made an apple-chipolte dipping sauce that I made for an earlier pork dish. The recipe can be found at the link above and it went wonderfully with this dish.
What I did, was I used one pork tenderloin (the original recipe called for two) but made the same amount of the cilantro paste. I used half for the roast pork and the other half I mixed with some plain yogurt to make a dipping sauce.
Mojo Roasted Pork Tenderloin and Sweet Potato Quesadillas
1 jalapeno, stemmed, seeded, and coarsely chopped
1/4 cup coarsely chopped onions
1/4 . . . → Read More: Why, it's Pork & Sweet Potato Quesadillas to the Rescue!