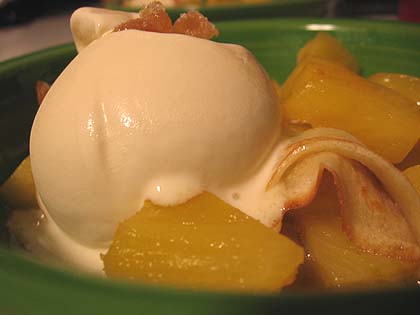 Once Upon a Feast came up with a great theme for his month's Sugar High Friday — Ginger. Ginger is a very fun ingredient, as it can be in spicy, savory dishes or sweet (and a little bit spicy) dishes. It's versatile!
Of course, this is Sugar High Friday, so I went with the sweet option. In addition, ginger is very good for the digestion, which makes it a great choice for a dessert theme.
While looking for a recipe, I came across this one from Gourmet Magazine and immediately knew it was what I would be making. jwa gave me a crepe pan a few years ago and I am always looking for things to cook up in it — mainly crepes. I also, have never made dessert crepes before. I'm usually more of a savory crepe kind of girl. I'm really glad I didn't let that stop me from trying this recipe because it was wonderful!
Oh and using a whole fresh pineapple? So very easy! The original recipe called for canned but as I was walking through the grocery store, I thought What the hell? I strolled through the produce section, while the Maui Gold pineapples . . . → Read More: SHF19: Honey-Ginger Pineapple Crepes