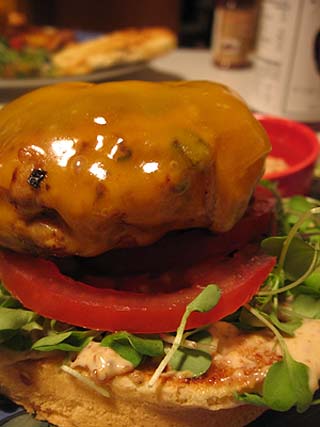 Pickled onions. Tillamook Cheddar. Toasted onion bun. Crispy, golden oven fries. Now, this was a meal. I sometimes like to add different combinations of ingredients and make interesting turkey burgers. These puppies had sautéed onions, spinach and smoked paprika. They were excellent.
Yukon gold potato wedges were roasted with some extra-virgin olive oil, kosher salt and Trail Dust seasoning and magically turned into a crunchy-on-the-outside, creamy-on-the-inside accompaniment for this epic burger. Make your own, won't you?
Spicy Greens Turkey Burger
1 small onion, diced
1 handful spinach leaves, chopped roughly
1 tsp olive oil + a bit more for brushing
1 tbsp smoked paprika
1 lb ground turkey
salt & pepper
Onion buns, toasted
Microgreens — or any favorite lettuce
Sliced tomato
Mayonnaise
Mustard
Ketchup
4 slices Cheddar cheese — or any cheese you are in the mood for — there's no bad cheese for this — all cheese is delicious. (mmmmmm…cheese….)
Saute the onion in the oil until soft, 2-3 minutes. Add the paprika and continue to stir until it becomes very fragrant and the onions darken. Add the spinach and toss, until spinach wilts. Remove from heat and let cool.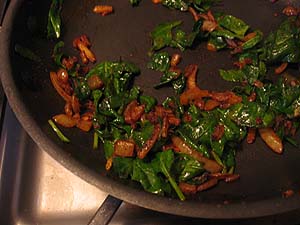 When onions are room temperature, combine with ground turkey. Form into four equal burgers. Heat a grill pan and . . . → Read More: A Turkey Burger to be Reckoned With…