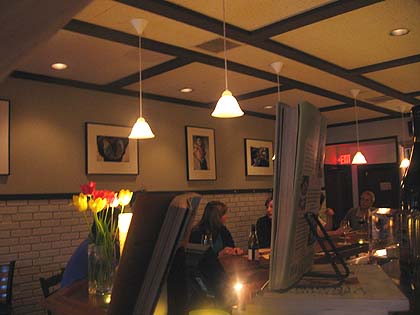 Flea Street Cafe
3607 Alameda de las Pulgas
Menlo Park, CA 94025
650-854-1226
I have very fond memories of Flea Street Cafe in Menlo Park. You see, I used to live in an apartment above the restaurant. I would walk up the backstairs and smell all the amazing smells from the open kitchen door. In the summer, there was even a mini-farmer's market in the parking lot. As if that all wasn't enough — my studio apartment also had hardwood floors. All in all, it was a pretty great place to live.
When jwa & I ate dinner there, if we didn't finish our wine — no problem, they would let us take it upstairs. Awesome. (This happened once — I think when we had 2 bottles, it's not like jwa and I can't drink a bottle of wine with dinner. Oh — we can).
This last trip to California, we scheduled it so that we could spend a night in Menlo Park (this actually turned into two nights, as he wanted to go to the Maker Faire — another post, perhaps). As we were there for a couple of nights, we couldn't stay in Menlo Park without having dinner . . . → Read More: The Best Restaurant to Live Above: Flea Street Cafe in Menlo Park