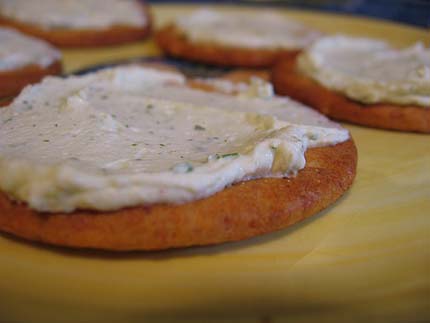 We always have tons of yogurt in the house. Little containers of Tillamook Vanilla, Strawberry and Peach, as well of large containers of vanilla or honey for smoothies and plain yogurt for Indian-ish and Mexican-ish dishes.
So, when I saw Alton Brown make Yogurt Cheese on a Good Eats recently, I immediately went rummaging through my kitchen drawers looking for cheesecloth (I just knew I had some somewhere). Because — wow! Cheese from yogurt, you say? That's sounds so fun.
After locating the cheesecloth and blending my yogurt and herbs together, five hours later I had this easy and tangy yogurt cheese spread. I used a seasoning blend that I had on hand, but fresh herbs could easily be used in this recipe. Chives, thyme and rosemary would be good. So would shallots, chives and tarragon — the possibilities are quite endless!
The secret is in separating the whey from the yogurt. The whey is the watery liquid that is strained from the yogurt, leaving the creamy, thicker yogurt cheese when you are done. Give this one a try.
Herbed Yogurt Cheese Spread
1 quart plain yogurt (low fat)
4 big cloves of garlic or 8 little cloves . . . → Read More: Things to do with Yogurt When You're Bored (or Hungry)