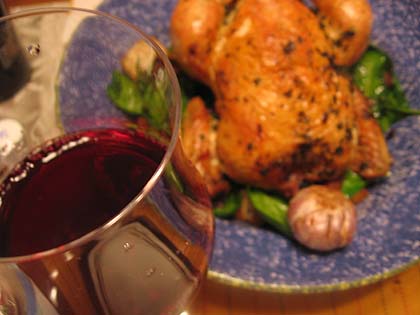 This IMBB's theme this month — graciously chosen and hosted by Derrick at An Obsession with Food and Wine — is stale bread. Wonderful things can be made from stale bread — things like french toast and bread pudding and croutons and this spinach and bread salad.
I came across this recipe at Epicurious. Once I read through it, I knew I had to make it. The recipe is originally from Bon Appetite. That recipe also had a chicken component but I actually opted for a different roasting method for my chicken.
The directions I followed are from The Bouchon Cookbook by Thomas Keller. It just seemed so simple and the reviews were practically fawning in their awe and recommendations. Now, I know that the main star of this meal should be the stale bread, as that was the IMBB theme but….well…huh…crackling, salty, tasty chicken skin. That is my defense!
I have to say, both jwa and I were in gastronomic heaven while eating this meal. The chicken was amazing. Who knew throwing a bird into a super hot oven and not touching it (no basting, no turning, no nothing!) at all for the next hour would produce . . . → Read More: IMBB25: Roast Chicken with Bread and Spinach Salad