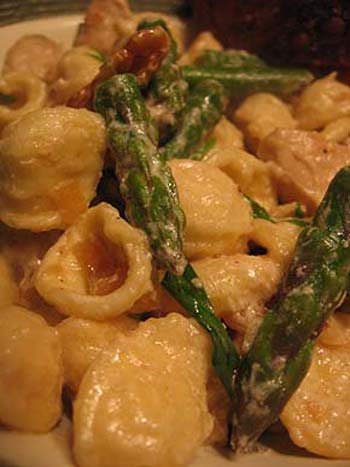 This was…wonderful. Wait, I'm getting a little emotional. Hold on. Okay. I'm fine now. This recipe is from a cookbook that I've had for six years and have never made anything out of before. And now I've made this and I'm planning my dish for Cookbook Challenge4 to be from this book too. Why, it's Intercourses: An Aphrodisiac Cookbook and it's full of pretty, sexy photos of half naked people wearing vegetables/nuts/shellfish/fruit/other as clothes (or using as props! whee!) and decadent, luscious recipes.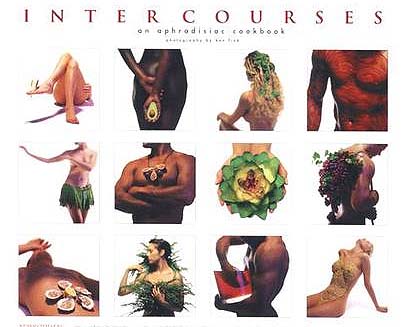 I'm not quite sure how in the mood a heavy sauce (by the way, I lightened it up with half and half instead of cream) and asparagus would put a person, but hey, it was a really delicious bowl of pasta all the same.
Pasta with Chicken, Asparagus & Gorgonzola:
1/2 pound fresh asparagus, cleaned and trimmed
8 ounces pasta — I used orecchiette (little ear pasta, but rigatoni, fusilli or even linguine would work well)
1 tbsp butter
1 big breast or 2 small chicken breasts, cut into bite-sized pieces
3/4 cup half-and-half or cream
red pepper flakes to taste
1 shallot, finely diced
dash of nutmeg
2 oz Gorgonzola cheese, crumbled
1 tbsp fresh tarragon
1/4 cup toasted walnuts
salt & pepper
Optional: Parmesan cheese for garnish
Start your sexy, sexy culinary adventure by cutting the asparagus into 1 1/2 inch pieces. Cook in boiling water for about 4 minutes. Set aside.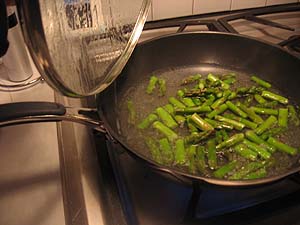 Cook the pasta of you choice until it is al dente. Then, you will set that aside too. Perhaps by the asparagus so that they can get to know each other and it won't be quite so awkward later. You know, when they get together in the pan.
Speaking of which, melt the butter in a large pan. Add the chicken and shallots, brown the chicken 2-3 minutes each side. Next, whisk in the half and half, red pepper flakes, and nutmeg. Here, I turned the heat to medium-low and put a lid on the pan to give the chicken and half and half a little privacy. wink-wink. Okay — is it getting old yet? Let the chicken finish cooking and the cream simmer a bit, for about 5-6 minutes.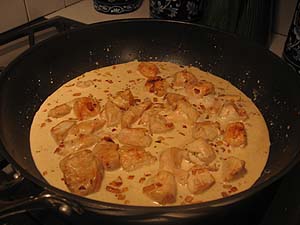 Remove the lid and add the Gorgonzola and stir in until melted. Add the pasta and asparagus and toss to coat. Garnish with the fresh tarragon and walnuts. Add salt and pepper to taste. Serve with additional Parmesan cheese if desired. Oh! And don't forget the wine and the crusty, sourdough bread! Or your dinner companion. wink-wink.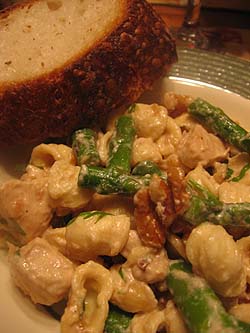 Actually, I was a little tentative with the tarragon but it really worked here. The sauce was also not overly abundant. I was kind of afraid the pasta would be swimming in heavy sauce but it wasn't at all. It was the perfect amount and a great meal.
wink-wink
Stop that! It's not even funny anymore…