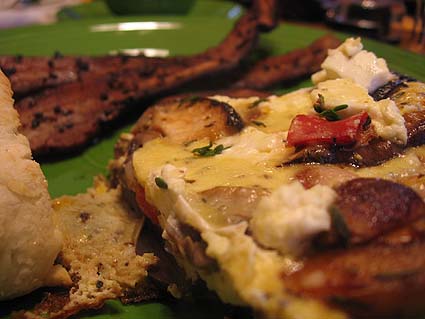 We love brunch. And I enjoy making brunch every so often. Mostly egg dishes, breakfast potatoes, English muffins and mimosas. Oh, don't forget the mimosas! But, I like to make frittatas sometimes just because they're fun — I get to stick my ovenproof pan in the oven. If you don't have an ovenproof pan you don't really need one. It can easily be made on the stove top. That's the way I used to make them all through grad school and until pretty recently, actually.
For this frittata, I used cremini and shitake mushrooms, red bell pepper, goat cheese and fresh thyme. Our finished frittata wedges were accompanied with pepper bacon (!), scones and freshly pressed Stumptown coffee.
Mushroom, Thyme & Goat Cheese Frittata:
3-4 small potatoes (red new potatoes work well, so did little purple potatoes)
8 cremini mushrooms, sliced
8 shitake mushrooms, sliced
1 red bell pepper, diced or julienned
1/4 tsp dried thyme
1/2 small onion, diced
2 cloves garlic
2 tbsp olive oil
4 eggs
3 oz goat cheese
1 tsp Dijon mustard
salt and pepper
fresh thyme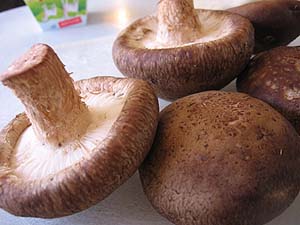 Preheat oven to 400.
Whisk eggs in a bowl with the Dijon mustard and a little salt and pepper.
Slice the potatoes thinly, about 1/4 of an inch in thickness. Toss with 1 tablespoon of the olive oil and some salt and pepper. Heat an ovenproof skillet (if you don't have one, just use a normal skillet) and add potatoes. Let cook and brown for about 10 minutes. You should have enough to cover the bottom of the pan. Flip and stir occasionally.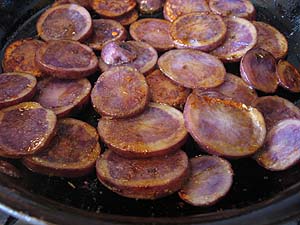 While the potatoes cook, heat another pan and add the remaining 1 tablespoon of oil. Sauté the mushrooms, garlic, onion, dried thyme and bell pepper.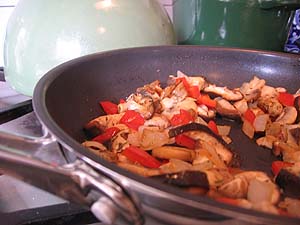 When the vegetables are soft and beginning to color nicely, add them on top of the potato layer in the other pan. Next add the beaten eggs and mustard. Add little clumps of goat cheese on top of the egg mixture. Let cook on the stovetop, over medium heat for about 4-5 minutes, until the egg starts to set a bit along the edges.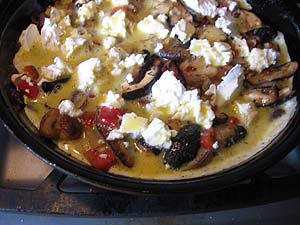 Then, pop in the oven for about 7-10 minutes or until the eggs are all set and the top is a bit puffed and starting to get golden. If you don't have an ovenproof pan, turn the heat to stovetop heat to medium-low and cover the pan and cook until the eggs are set and the cheese is soft and warm, 10-15 minutes. You can also slide the half-cooked frittata out onto a plate, hold the pan upside down on top of the plate, and flip it back into the pan, potato side up to cook the top. I never did it this way, mainly because I am lazy, but I hear it works very well.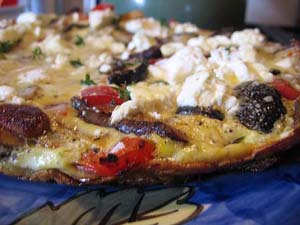 Garnish with fresh thyme leaves, cut into wedges and serve.
A frittata also makes a great dinner. Another fun frittata fact — you can pretty much, just like with an omelet, put whatever combination of meat, veggies and cheese that you like in one!