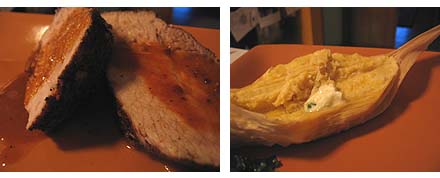 This meal all started with a trip to Zupan's (fancy-pantsy grocery store). I went for some tuna, I left with tuna and this spice rub. Which, just now, when I looked it up, I realized was affiliated with Michael Chiarello. I bought it anyway because I am a sucker for pretty packaging and coffee products.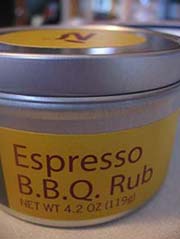 But, later it dawned on me — I should have just copied down the ingredients and made it myself! So, here you go:
grey salt ( you could also probably use kosher)
instant espresso
coriander (ground)
paprika
cumin
orange zest
chile powder (chipotle or a blend)
Ta da — you've just saved $7.95. As far as measurements go, I'd use a tablespoon of everything, except the salt, maybe 1 teaspoon of that and the zest, again, maybe a teaspoon. Oh, and for this pork recipe, I also mixed some brown sugar into the spice rub I used — so, throw a tablespoon of brown sugar in there too just for fun. But, I am just kind of guessing on the measurements here, so it might take a bit of trial and error.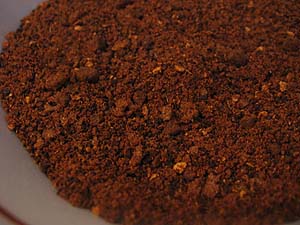 If you are not feeling that adventurous, the recipe that I ultimately found to use my spice rub with, came with its own spice rub recipe, which I will list below. You can also use whatever spice rub you know and love.
I found this recipe on Food Network and it is one by Bobby Flay. I know! I changed a lot of it, though, including: using my own spice rub, cooking it differently, using a pork loin roast instead of tenderloins, using different peppers in the sauce and using masa harina instead of corn meal for the tamales. Ha! So there!
Spice-Rubbed Pork Tenderloin with Chipotle Chile Mustard Sauce:
Chile Mustard Sauce:
2 cups chicken stock
3/4 cup apple juice concentrate
3 black pepper corns
1-2 chipotle peppers
2 tsp Dijon mustard
1 tbsp sour cream or plain yogurt (can be light, but not fat free)
Combine chicken stock and chipotle pepper(s) in a blender or food processor and puree. Add to a pan with the apple juice and peppercorns. Bring to a boil over medium-high heat and reduce to a sauce consistency, about 20-30 minutes). It can be made to this point and then refrigerated until needed. When ready, bring back up to temperature, then whisk in mustard and sour cream or yogurt and cook for 1 minute. Season with salt and pepper to taste. This sauce was awesome — spicy but sweet. jwa and I both loved it.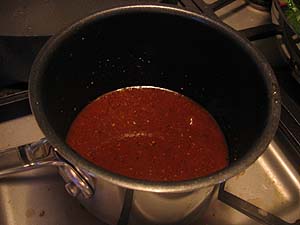 Pork Loin:
1 pork loin roast, approximately 2 1/2 – 3 pounds
Spice rub
1 cup chicken stock
2 tbsp olive oil
Preheat oven to 350 degrees. Dredge the tenderloin in the spice rub mixture and pat off any excess. Heat olive oil in medium oven-proof skillet. Add the pork loin and sear well on all sides — about a minute or two each side.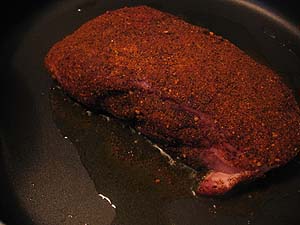 For the rest of the cooking, I followed something similar to how I cooked my last pork loin roast. Add 1 cup of chicken stock to the bottom of the pan and tent with foil. Place in the oven and continue cooking until pork is done (155 degrees), about 1 hour. When done, transfer pork to a plate and recover with foil. Let rest for 5-10 minutes and slice into 1-inch pieces on the diagonal.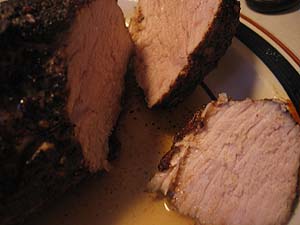 Spoon the yummy, yummy sauce onto a platter and top with the slices of pork.
Alternate Spice Rub:
3 tbsp ancho chile powder
1 tsp chile de arbol
1 tbsp pasilla chile powder
1 tblsp guajillo powder
1 tsp allspice
2 tbsp brown sugar
1/2 tsp cinnamon
Salt and freshly ground pepper
Combine all ingredients in a small bowl and season with salt and pepper.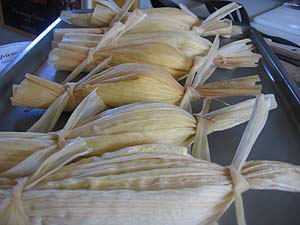 With this pork loin roast, I also made tamales as a side dish. Settle down. Just simple tamales. This recipe made about seven, so there were leftovers for us. They were good the next day with leftover pork and black beans.
Roasted Garlic and Goat Cheese Tamales
15 dried corn husks
3/4 cup corn kernels (fresh or frozen)
1/2 medium onion, coarsely chopped
7 cloves of roasted garlic (Wrap separated cloves in aluminum foil and bake 30-40 minutes at 400 degrees until soft)
1 cup chicken stock
3 tbsp unsalted butter, melted
3 tbsp vegetable shortening , melted
3/4 cup masa harina
1/2 tsp sugar
1/2 tsp fresh thyme leaves (less if using dried thyme)
Salt and freshly ground pepper
1/2 cup goat cheese, crumbled
Bring a large pot of water to a boil. Turn off the heat. Add the dried corn husks and weight down with a plate. Let soak until soft, about 30-40 minutes. Pat dry and set aside the best 8 husks. Cut the other husks into strips for tying.
If using frozen corn, place in a microwave safe bowl add a tablespoon of water and cook, 2 minutes or so until done. Drain excess water.
Puree the corn, onion, roasted garlic, and stock in a food processor. Transfer the mixture to a mixing bowl and mix in the melted butter and shortening. Add the masa harina, sugar, and salt and pepper to taste. Fold in the goat cheese.
The mixture will seem very loose — that's okay. Lay a husk flat on a work surface. Place about 1/4 – 1/3 cup of masa mixture in the center.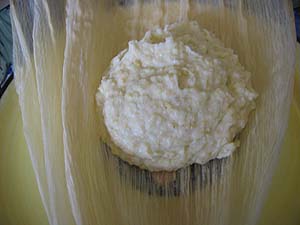 Roll up. Tie each end of the bundle with a strip of corn husk.
Arrange the tamales in a single layer on a steaming rack, cover tightly with foil or a lid, and steam over boiling water for 1 1/2 hours.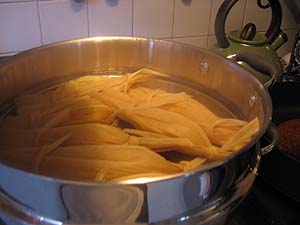 We had the pork and tamales with a simple side of sautéed Swiss chard. For true crazy decadence, put a dollop of butter on the hot tamale. Mmm!
Planning:
I made this on a Sunday, so I had all afternoon to work on it and take breaks. I roasted the garlic first, then made the sauce. Next, I soaked the corn husks. Then, if I remember correctly, came a little TV and a beer.
I made the tamales next and while they steamed, I seared the pork and got it in the oven. When done, the tamales can sit covered with foil, off the heat, for a bit. Nice. The pork also rests. Hey, this is a great time to sauté the greens.
Lastly, the sauce can get heated up and combined with a little sour cream (or plain yogurt) to finish it off.
Sit down and eat!