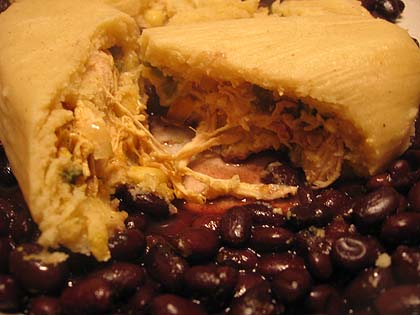 When I was growing up, my mom and I would go to this restaurant called, Carlos Murphy's (which I believe is a chain — but we only went to one of them). It was an Irish/Mexican restaurant. I used to get taquitos. With that introduction taken care of, I now give you a tamale recipe on St. Patrick's Day!
Tamales are an extremely fun project for when you have a few hours to devote to a culinary event. They are time-intensive, so be warned (steaming alone takes 2 hours). But, they are also nice to make with your significant other (or a friend, of course). Two people can assemble the tamales in half the time. That means you can start steaming and subsequently start eating that much faster!
Tamales were also something that I was a little intimidated to try to attempt. But, actually, it's pretty easy. Just many steps and and a fair amount of time.
This recipe is from Emeril, who really, has never steered my wrong yet. Everything I've tried of his has worked out really well. I usually make a half recipe of the one listed below, which will make me about 17-18 . . . → Read More: Weekend Project: Chicken & Goat Cheese Tamales