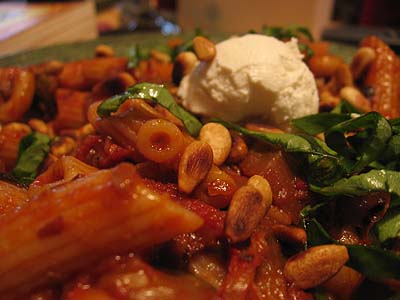 When I experimented with the Crab-Crusted Ling Cod last week, I had extra roasted red pepper sauce left over (bottom of that post). And really, extra roasted red pepper sauce literally screams, "pasta! Use me with pasta!" Really, it does — I heard it.
So, I answered the call. I used the leftover sauce to make yet another sauce with some canned plum tomatoes, an eggplant, a zucchini and some mushrooms.
Penne with Red Pepper, Eggplant & Zucchini
1/2 cup leftover roasted red pepper sauce (or 2 red peppers, roasted, peeled and pureed)
2 tbsp olive oil
1 medium eggplant, peeled and cubed
1 medium zucchini, diced
2 cloves of garlic, minced
salt & pepper to taste
8-10 button mushrooms, sliced
1 28-oz can whole plum tomatoes
1/4 cup red wine
Garnishes:
1/4 cup fresh basil leaves, sliced into thin strips (chiffonadded, if you will)
1/4 cup pine nuts, toasted
1/4 cup goat cheese
Liberally salt eggplant cubes in a colander and let sit for 30 minutes. Rinse well and set aside.
Heat a pan over medium heat. Add olive oil and sauté the mushrooms, zucchini and garlic for about 5 minutes. Add eggplant and let everything cook down for about 30 minutes over medium-low heat. Let the eggplant really break down . . . → Read More: What to do with Leftover Red Pepper Sauce