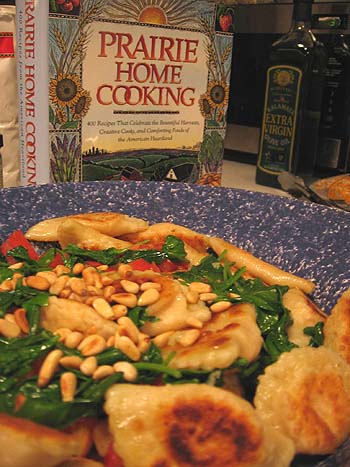 I'm very glad I stumbled upon this food blogging event! I have so many cookbooks and honestly, I don't use them enough. This Weekend Coookbook Challenge was to produce some winter comfort food from a cookbook in your collection (ideally one you haven't used before).
After some consideration, I decided my Midwest roots provided tons of comfort food inspiration — noodles, potatoes, casseroles — my people love their carbs! So, for this challenge, I turned to Prairie Home Cooking, by Judith M. Fertig. Once again, I have this book by accident, through the Good Cook Club, when I didn't return the response card in time. A couple of weeks ago I picked it up, hoping to find something doughy or noodley for this event and ended up making Cheddar and Beer soup last week — but not before folding down the page with the pierogi recipe. So, I've used it once before but only because of this challenge, so I think it's okay.
Now, I was going to make the cheese pierogi filling from the book to go with my pierogi dough, except, I couldn't find any dry curd cottage cheese or farmer's cheese. So, I had to improvise a little and come up with my own filling (sweet potato, rosemary and cheese). But the pierogi dough is straight from this cookbook and pillowy and hearty — pierogi is definitely a Winter comfort food to me!
Pierogi Dough (from Prairie Home Cooking):
This makes about 6o pierogi — a half recipe will make about 30
4 1/2 cups AP flour
2 cups light sour cream
2 tbsp butter, melted
2 tbsp canola or safflour oil
2 eggs + 1 egg yolk
2 tsp salt
Mix all dough ingredients together in a large bowl. Turn dough out onto a floured surface and knead for 5 minutes until it is soft and pliable. Alternatively, you can use a mixer with a dough hook for about 5 minutes, then turn it out onto a floured surface and knead for a few seconds. Divide dough in half, wrap in plastic wrap and let it rest for 10 minutes.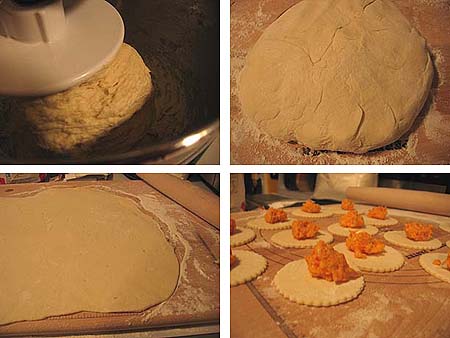 Roll dough out until about 1/4 inch thick. Using a drinking glass or a 2-inch biscuit cutter, cut the dough into circles. Incidentally, this was the most billowy, velvety dough I have ever seen — it was really fun to work with!
Place 1 rounded teaspoon of filling in the center of each circle, moisten the edges of the circle with water and fold dough over to join, creating a half moon shape. Crimp with a fork to seal. Repeat using all of the dough. After cutting circles out, I re-rolled and cut more circles from the scraps.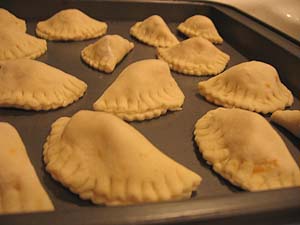 Bring a large pot of salted water to a boil. Cook the pierogi in batches for ten minutes. Drain in a colander.
Sweet Potato, Rosemary & Cheese Filling:
Enough fillling for about 40 pierogi
1 sweet potato, peeled and cubed
1/4 cup (measure generously) feta cheese, crumbled
1 big handful parmesan cheese
1 small shallot, diced finely
1 clove of garlic, minced
1 tsp chopped fresh rosemary (or 1/4 tsp or to taste, dried rosemary)
dash of red pepper flakes
zest from 1/2 lemon
salt & pepper to taste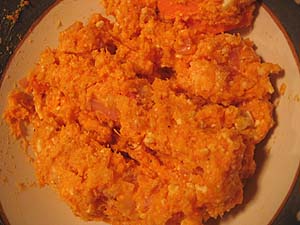 Add cubed sweet potato to a pot of water. Bring to a boil and cook until fork tender, about 10-15 minutes. Drain and return to the hot pan and stir a little over medium heat to dry out a bit. Transfer to a bowl and mash. Add the cheeses, shallot, garlic, rosemary, pepper flakes and zest. Stir to combine. Salt and pepper to taste. Set aside until needed to fill pierogi.
Extra Accompaniments:
1/2 cup chicken stock
2 tbsp olive oil + a drizzle more
2 cups loosely packed arugula or spinach leaves
2 tomatoes, diced
2 cloves garlic, minced
1/4 cup toasted pine nuts
Now, here is where I deviated from the original recipe or rather, I kept going. The end of the pierogi recipe in Prairie Home Cooking says, serve boiled pierogi hot. But I ask, why eat boiled pierogi when you can eat boiled and then pan fried pierogi? Exactly. I also used my serving style that I employ with Trader Joe's frozen pierogi — diced tomato, chicken stock, greens and pine nuts.
After boiling, I heated some olive oil (2 tablespoons) in a pan and sautéed the pierogi until puffed and golden and slid them out into a large serving bowl.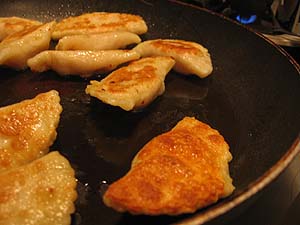 Next, I added some greens to the hot pan and wilted them down with some garlic and chicken stock. I tossed the big bowl of the pierogi with the diced tomato, added a quick drizzle of extra virgin olive oil and poured the chicken stock and greens down on top. To finish, I garnished with some toasted pine nuts. Mmm — comforting and delicious!
A round up of everyone's dishes can be found here.