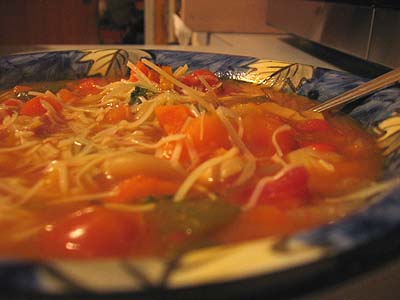 A: Make vegetable soup, of course!
I found myself with this option the other night, as we'd had an event at work that left me with a whole plastic bag full of cut veggies from a vegetable tray from the Lucky Lab. I had brought them to work the next day to try and share but no takers. So the next night, there I was again with my bag of vegetables.
Red, yellow, and green bell peppers, carrots, broccoli and cauliflower. Oh and a few cherry tomatoes. So, I added a few other things and called it dinner. Since I started with cut veggies, I tried to approximate how much I had of each below. I'm sure it's not exact but it's close enough.
Vegetable Soup:
2 green bell peppers, julienned
2 yellow bell peppers, julienned
2 red bell peppers, julienned
8-10 white button mushrooms, sliced
1 onion, diced
1 tbsp olive oil
4 carrots, peeled and cut into circular chunks
1/4 cup red wine
1 sweet potato, peeled and diced
1 cup of broccoli florets
1 cup cauliflower florets
4 cups chicken (or vegetable) stock
1 can diced tomatoes
4 cloves garlic
1/2 tsp oregano
1/2 tsp thyme
1/2 cup dried pasta (I used elbow macaroni)
Parmesan cheese
salt & pepper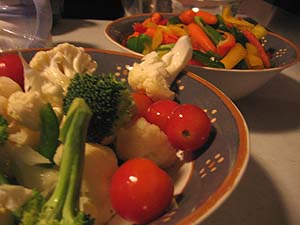 Heat oil . . . → Read More: Q: What to do with a bag full of vegetables?