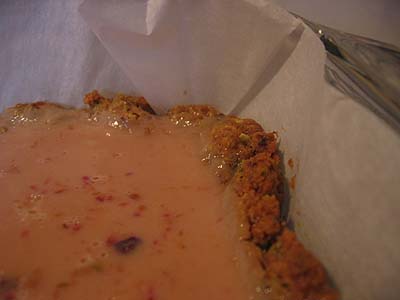 The day I made these was the day that Sarah from Slashfood came over to photograph my kitchen. You can read about that here.
I made these sweet and tasty bars for a number of different reasons. Let me list them (it'll be fun):
1. The new issue of Everyday Food had a recipe in it for lime bars with a pistachio crust that looked really good
2. Blood oranges seem to be all about the stores now (finally!)
3. We got a big jar of pistachios for Christmas (Thanks Janie & Bruce!)
4. I had a can of sweetened condensed milk that I had bought around Thanksgiving in case I needed it for the pumpkin pie
So, make them I did. First of all, I loved the crust. The pistachios are so tasty in it. And for the "filling" — the orange flavor had a sort of dreamsicle quality to it and the pink with little red flecks was quite pretty. I think these would also be good with normal oranges, limes or lemons. So make some!
Blood Orange Bars with a Pistachio Crust:
4 tbsp unsalted butter, melted and cooled
2/3 cup shelled pistachios
1 cup graham crackers, broken into pieces
1/4 cup sugar
1 tbsp blood orange zest
2 large egg yolks
1 can (14 oz.) sweetened condensed milk (you can also use fat free sweetened condensed milk)
1/2 cup fresh blood orange juice
non-stick cooking spray
parchment paper
Preheat the oven to 350 degrees. Spray a 8-inch square baking dish with cooking spray. Line with parchment, leaving a 2-inch overhang on two sides. I had to trim with scissors but I ended up with something fairly functional here.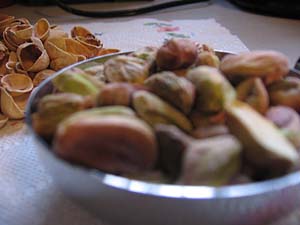 In a food processor, finely grind pistachios and graham cracker pieces, sugar and zest. If you don't have a food processor, you could place the nuts and graham crackers in a zip lock bag and pound with a rolling pin. Blend butter into graham cracker mixture and press into the bottom of the prepared baking dish. Go up the sides about 1/2 inch. Bake until lightly browned, 8-12 minutes. Cool crust about 30 minutes.
Whisk together egg yolks, and condensed milk in a large bowl. Add blood orange juice and whisk until smooth. Pour into cooled crust. Bake until set, about 15 minutes. If you are spazzy about when custard-type things are done (like me!), you can use a food thermometer. It should be set between 160-180, so says Alton Brown. Cool pan on a rack, then chill in the refrigerator at least one hour.
To remove:
Lift bars out of pan using parchment and transfer to a cutting board. Cut into 16 squares, wiping knife with a damp paper towel before each new cut.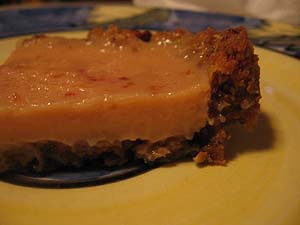 We devoured all 16 of these in about two days. Crazy.